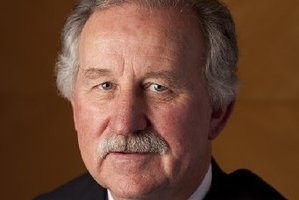 A coroner has described the events leading up to Shaun Hogarth's death as a case of total stupidity.
Mr Hogarth, 23, died while fishing with three mates in rough seas in a stolen small dinghy on October 16 last year.
Coroner Wallace Bain yesterday released his findings in to Mr Hogarth's death.
Mr Hogarth and a group of friends were drinking when they were on a fishing trip in a stolen boat in the Omokoroa Harbour.
"At 7.30pm the dinghy's speed was accelerated causing its rear to dip below water level. The dingy was swamped with water and sank.''
There were no lifejackets or oars on board, and when the boat began sinking the group tried to use empty beer bottles and an empty tackle box to try and bail out the water.
Mr Hogarth was last seen swimming back to the submerged dinghy by one of his friends.
His body was recovered by the Coastguard nine days later.
Sea conditions were choppy at the time of the incident and small waves were being blown across the Omokoroa Harbour.
One of the three survivors was convicted on a charge of stealing the dinghy and received a suspended sentence, another was sentenced to 18 months' in prison.
"This is yet another case of total stupidity involved in water safety and boating in the Tauranga Harbour,'' Mr Bain said.
"There is also criminality involved when it has been revealed to the court that not only was the outboard motor stolen, so was the boat that these four youths ventured out on.''
Mr Bain said this was similar to many other boating incidents.
"Again we have a situation where there is no bailing equipment, no method of communication, no advice to friends and family as to location, no lifejackets worn and the boat is overloaded and not known whether it was safe or had any defects because of course it was stolen on the side of the harbour.
"It is simply hoped that the publication of these stupid actions by these young men will assist, by being drawn to attention of others, in preventing similar actions occurring under similar circumstances.''