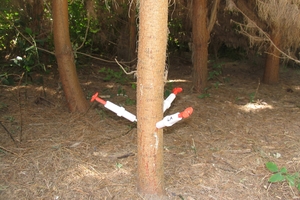 Norfolk Pines along The Mall and Marine Parade are about to get a serious dose of medicine.
The team from Scion has been investigating the condition of a number of the Norfolks, which appear to have contracted a tree pathogen.
There was concerns that the trees may need to be cut down if the cause of the disease was not found. However, Scion researchers have determined that the tree decline is a result of site disturbances and various pathogens. At the top of the hit list is a pathogen called Phytopthora multivora.
Later next week the trees will be injected with micronutrients.
Each tree will have about 15 large syringes inserted into the trunk.
There's 14 trees which are due to receive the treatment, starting with those along The Mall. Each tree to be treated will be fenced off.