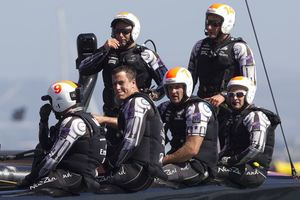 Oracle Team USA have landed the final knock-out blow on Team New Zealand, taking out today's winner-takes-all race for the America's Cup to complete their stunning comeback in a thrilling finish to a dramatic regatta.
Oracle's Cup defence looked all but over just a week ago, with Team NZ leading the first-to-nine series 8-1. But a remarkable turnaround saw the Oracle team string together seven straight wins to tie up the series 8-all and send the match in a deciding 19th race.
Having found an extra gear upwind in the last week and half, the Oracle boat was too good for Team NZ in today's finale - leaving the Kiwi team heartbreakingly anchored on match point.
Only about 20 loyal fans turned out for the final day of America's Cup racing at the Tauranga Yacht and Powerboat Club today, down from the 100-strong crowd there last week.
The yachting enthusiasts sat on the edge of their seats and let out excited cries of, "Go boys, go" as Emirates Team New Zealand rounded the first and second marks in the lead.
The mood quickly changed as Oracle sped away from the Kiwi boat early in the third leg.
Chatter gradually increased as spectators lost hope of catching up.
Club commodore Gary Smith congratulated Oracle on an "absolutely stunning comeback".
"This was our expectation of the result over the last week," he said.
"The America's Cup's always been a technology race. There's some absolutely stunning pieces of kit on [Oracle]."
Mr Smith said interest in yachting had picked up early in the competition but died down during the last week.
"It's great. It's raised the whole profile of sailing and made it look a cool sport. We've just got to get the kids to get out there."