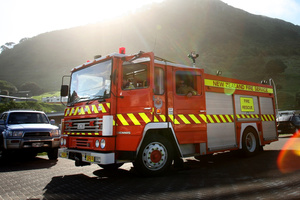 Firefighters across the region were kept busy clearing trees and powerlines brought down by Tuesday night's storm.
Waihi firefighters responded to about 12 jobs on Tuesday night and early yesterday morning.
Waihi fire chief Moe Stevens said most of the calls related to trees that had been blown down on to roads.
The biggest job was clearing a tree of up to 25m in height which had fallen on top of the Whiritoa Hills, he said.
Firefighters were also called to help clear up the mess caused when two or three large panes of glass from the weather cover outside the front doors of the Waihi Countdown smashed.
In Union St, a garden shed which measured about 2sq m started lifting off its foundations in the strong wind. The brigade was called to help rope it down, Mr Stevens said.
Katikati resident Eris Boyack heard a loud bang on her roof about 9pm and went outside to find a tin roof propped up against the side of her Gray St home.
"The noise was horrendous," she said. "At first I thought the garage door had blown in.
"The wind was so fierce I shut the door in case there were other bits of metal flying around outside"
The metal roof banged against the side of the building for some time before there was another loud bang. The wind had picked up the roof and dropped it flat on the ground in her yard, which was not much bigger than the roof. Her home wasn't damaged.
In Whangamata, a tree fell across and blocked the Wentworth Valley ford.
Tauranga Fire Brigade senior station officer Len Sabin said that on Tuesday night staff were also kept busy dealing with fallen trees, and power poles with blown fuses during the storm.
Crews responded to six weather-related call-outs.
Branches from a tree came down on State Highway 2 near Clarke Rd, in Te Puna, and a couple of trees were blown over in Yatton Park.
Western Bay of Plenty road policing manager Senior Sergeant Ian Campion said the downed tree near Clarke Rd caused one of the two weather-related crashes on the night.
At 9.45pm a car drove over the tree but the vehicle behind it stopped in time, only to be rear-ended by a third car. A 54-year-old woman was taken to hospital with abdominal pains.
Half an hour earlier, an advertising trailer being towed by a car was overturned by high winds on State Highway 2 in Whakamarama.
The power supply was out for some consumers in Waihi, Waikino, Whiritoa, Whangamata and Greerton yesterday morning. Powerco network operations manager Phil Marsh said gales gusting to 130km/h resulted in power being cut to about 5500 properties in parts of the Coromandel and Eastern Waikato on Tuesday night.
About 2000 properties in Tauranga were affected but power had been restored to most by early yesterday afternoon.
By late afternoon, about 250 Waihi dwellings, about 80 in Waikino and about 250 houses in Whangamata and rural areas between these towns, were still without power.
Power was expected to have been restored to the remaining customers by nightfall.
Mr Marsh said many of the power cuts could have been avoided if people had cut or trimmed their trees before they caused a problem.