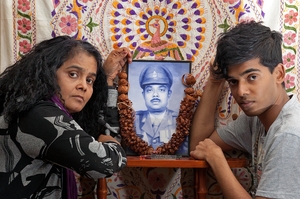 The widow of an Indian war hero is pleading for the return of his irreplaceable bravery medals stolen in a Bethlehem burglary this month.
Shivani Andrews has barely slept since thieves broke into her home on September 9 and made off with 14 Indian Army war medals.
Eight were silver, two were gold-plated and four were brass.
Mrs Andrews' first husband, Major Ganapaphy Nagaraj, was posthumously awarded the two gold Vir Raksha (Bravery, Protection) in addition to his brass medals. Major Nagaraj died in battle at Kashmir in 1999 when their son Shivashish was only 3 years old.
"He died a war hero," she said.
Mrs Andrews' father Lieutenant Colonel Harashiph Mazumdar was wounded during the Indo-China war in 1971. He was also awarded for his bravery with the Distinguished Service and Gallantry Sena (Army) Medal along with the Wound Medal and Raksha Medal.
Mrs Andrews appealed to anyone who might be able to help to return the medals back to her and her son, who was now 18.
"Both of us have lost the medals of our dads but . . . the posthumous awards can't be replaced. These are the oldest memories of his father."
Mrs Andrews, who has since remarried, said some medals could eventually be replaced through the Indian Army "but some of them can't". The posthumous medals were issued with an engraved signature of the then-president of India.
"It can never be duplicated," Mrs Andrews said.
The medals were kept at the foot of a large photo of Lieutenant Colonel Mazumdar in the family's living room.
"Because my dad's photo is very prominent . . . and the medals not being there, it's very conspicuous."
Mrs Andrews said she felt angry and perplexed at the theft of the medals.
"The thing I can't comprehend, they have taken so much of my jewellery and things of material value. That can all be replaced. I don't understand why they took the medals. If there was no jewellery or money, I could understand, but I'm trying to put myself in the burglar's shoes, which is bloody hard. I don't get why they have taken the medals," she said.
"I know they are not the Waiouru medals and of national importance but they are important to us."
The thieves also stole about $2000 that had been raised for a family friend with an ill child.
Anyone who might recognise the medals or have information that could help reunite Mrs Andrews and her son with the medals are asked to call Tauranga police on (07) 577 4300. Alternatively, information can be provided anonymously via Crimestoppers on 0800 555111.