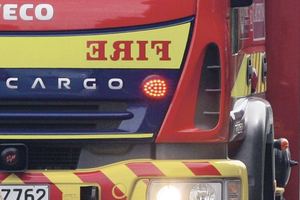 A fearless family dragged a paralysed woman out of her smoke-logged house after she suffered a stroke while cooking.
Karen Arthur, daughter Danielle, 19, and son Andrew, 17, had just come home from doing some shopping when they heard a beeping noise coming from their neighbour's house about 7.20pm on Monday.
The family heard banging coming from inside the house when they knocked on the door and went around the back to find their neighbour lying on the floor in her smoke-filled kitchen pounding the ground with her fist.
Mr Arthur called the emergency services while his sister smashed a window with a chair, climbed inside and opened the door so her mother could help.
The two women rolled the paralysed woman onto a floor matt and pulled her to the door.
Two other neighbours arrived at the house and carried her down to the road.
Miss Arthur said it appeared her neighbour had been boiling eggs when she had a stroke which left her partially paralysed and unable to move on the floor.
The eggs, which were still on the element, filled the hosue with smoke but had not yet caught fire.
Mr Arthur removed the eggs, turned off the element and opened the windows once his neighbour was safely out of the house.