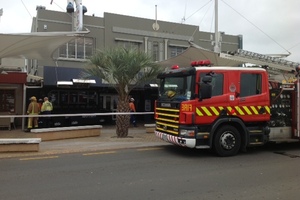 Businesses along The Strand were evacuated this morning after gas was smelled inside a dental surgery.
The block of restaurants and businesses between Hamilton St and Harington St were cordoned off while the fire brigade investigated the source of the leak.
Lonestar employee Steph Walton said she and a fellow employee saw a fire truck pull up outside the building at about 9.30am and went outside to investigate.
"I went outside and spoke to a woman from the dentist upstairs who said they could smell gas. She said it happens there sometimes but when they couldn't find where it was coming from, they called the fire brigade, who came and evacuated everyone.''
The Tauranga Family Law building was evacuated after a strong smell of gas came from the first floor.
Fire crews are still at the scene and are waiting on a gas company to arrive.