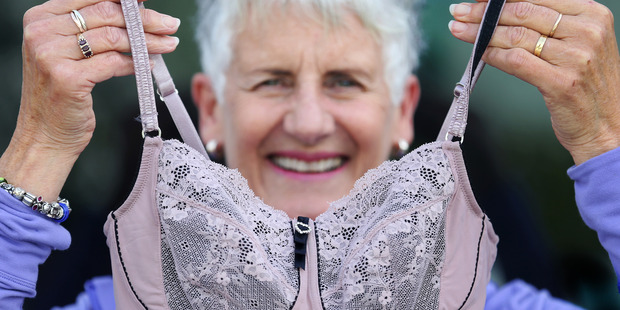 Gone are the days of "over the shoulder boulder-holders" as Tauranga women help a local business release underwear for breast cancer survivors.
Hotmilk Lingerie has launched a mastectomy bra trialled by a group of Tauranga women over the past six months.
Breast cancer survivor Rae Keightley said it was a big deal for those who had the operation.
The 66-year-old Boobop breast-cancer dragon-boat team member said the bra was "absolutely stunning".
"It's the most beautiful bra I've had in the 18 years since my operation," Mrs Keightley said.
Up until now, mastectomy bras were ugly, serviceable and not feminine, she said.
"They've come such a long way since the old thick-strapped, over the shoulder boulder-holders."
Mrs Keightley was one of six Boobop women who trialled the bras for Hotmilk.
At the end, they were given the trial bras, which were a standard white, plus a brand new set in a fawn brown with black lacing.
"All of us got really emotional because it was the first feminine bra that any of us have been able to wear since our operations."
Lea Lehndorf, manager of Tauranga Breast Cancer Support Service, said it was wonderful a local company designed such a "lovely bra" that worked well while remaining affordable.
Hotmilk is best known for its maternity range but worked with Tauranga breast surgeon Dr Peter Chin to produce the bra.
Directors Lisa Ebbing and Ange Sloan said they felt privileged to help wearers.
"It's a difficult time in their lives, so it's lovely for us to provide a beautiful garment that helps them feel feminine."