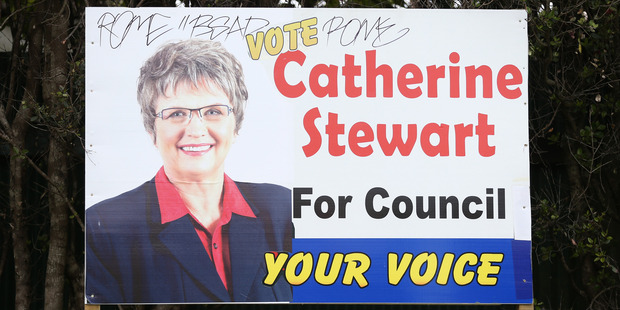 Candidates in the upcoming local-body elections are opting for varied methods to publicise their campaigns in the wake of a botch-up concerning electioneering regulations.
The trouble started when councillor Rick Curach found a rule in the City Plan listing the date for the erection of signs on private property as September 1 - a fortnight before the date of September 14 given to candidates by the council.
A second error later came when the council voted to exclude election signwriting on cars and buses from the policy.
In response, candidates had taken to alternative ways of promoting themselves.
At-large candidate Matt Cowley was running a social media-based campaign which included mobile signs on the back of buses, street-side games to catch the eyes of commuters and blackboards for people's feedback.
Mr Cowley pointed to Google searches as proof he had the largest electronic footprint of all candidates, as well as the strongest social-media following.
Mayoral and at-large council candidate Mike Baker had taken a novel approach by opting, with John Robson, Gail McIntosh and Bev Edlin, against erecting signs.
"As promised, I have no signs up and I do not intend putting up any as I believe they are just visual pollution that attracts vandals," Mr Baker said.
"They also have a tendency of confusing the voters, as they generally do not say anything other than providing a picture and a name."
He believed ward candidates probably produced more signs than at-large candidates and said the proliferation of signs was down to the low cost of production.
Rick Curach had 47 unique cut-out signs to stand out from the "crowd of boring signs", but was replacing about three per day.
"The younger set tend to souvenir them and they end up on their flat's wall after taking Pick Rick to late-night parties," Mr Curach said.
He said his self-made signs were placed on high-volume roads such as Maunganui and Waihi roads.
They cost about $20 each, including $860 for screen-printed corflute backing, $7.30 for printing and $3.50 for the timber.
Murray Guy had two 6x3metre commercial hoardings on private property on the corners of Hewletts and Aerodrome roads and 15th Ave and Burrows St, though he had no other roadside signs.
His half share of the two commercial hoardings cost about $3000.
He believed the confusion over the rules meant there were many signs still to be erected.
John Robson guessed Mr Curach had erected the most signs, while Mr Cowley awarded that honour to Steve Morris.