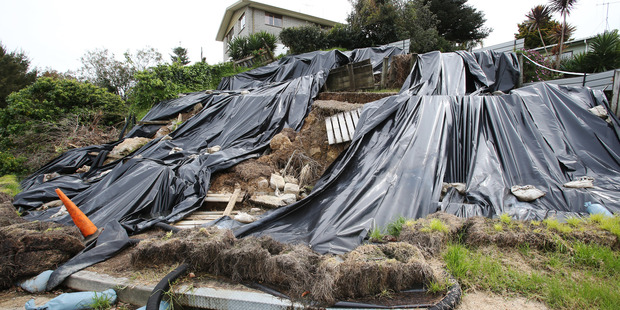 One Tauranga family still can't return to their home which was damaged in the April floods.
The owners of at least two properties on Princess Rd are in limbo waiting for news on the state of their properties and progress of their claims.
John and Kim Hemingway and their teenage sons were forced to move to temporary rental accommodation after part of their section was washed away in heavy rain on April 20, leaving their house precariously close to a major slip.
The slip led to cracks in the brickwork of the home, causing concern to engineers.
Mrs Hemingway said the Earthquake Commission was still monitoring their house to determine if it was safe to live in.
"We can't do anything until we know what the verdict is.
"It's really awful and we are just over it. The house we are living in is too small for us and we would love to be home."
A verdict on their home was due in the next month or two.
Because the structural safety of the house has not been determined the Hemingways' insurance company is not paying to fix the damage, which is causing issues for some neighbours.
Maxine Young owns a property next door to the Hemingways and part of it was washed away.
"It was just a bank with retaining walls and gardens," she said. "Our insurance company has been great but we can't do anything until [the Hemingways'] insurance company comes to the party."
Mrs Young said three properties were affected by the slip.
"We've been told the insurance companies wouldn't fix each section individually and that they all have to agree."
She had built a fence across her property to prevent the slip from causing further damage.
"We're just at a stalemate. We'd like to see it fixed."
The slip had blocked off a pavement and debris was spilling out on to the road causing concerns among residents who have complained to the Tauranga City Council.
A council spokesman said they were aware of the situation but the issue was with the residents' insurance companies.
Last week the Bay of Plenty Times spoke to a resident who was concerned a damaged retaining wall would collapse into her home. The Insurance Council said storm damage to the Bay totalled $11.5 million, $7.3 million of which was damage to residential properties.