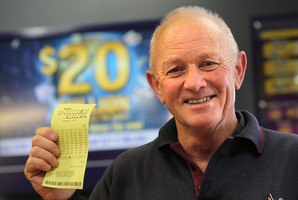 Lotto ticket sales increased 30 per cent in the Bay last week as punters tried their luck at becoming a millionaire.
Powerball has jackpotted to $27 million and Big Wednesday has hit $20 million, making this the largest combined prize pool across the week since Lotto started, according to New Zealand Lotteries.
Ohauiti man Harry Taylor was lining up at Paper Plus Mount Maunganui yesterday - his lucky shop where he met his wife almost 50 years ago.
Mr Taylor said he bought Lotto tickets most weeks, but it was more tempting when the prize money was so high.
"At golf we have a weekly thing where the losers have to pay for a ticket. The golf group has never won anything and it's been going back 12 years, but hopefully I'll be more lucky. You've got to be in to win."
Paper Plus Mount Maunganui store manager Jane Debenham said they had been busy in the past couple of weeks, enhanced by their first division winning ticket sold in March.
"People are tending to buy a ticket for both Big Wednesday and Powerball because they are both so big. It creates that extra buzz. A lot of our customers are promising to take us out if they win - we will be holding them to that."
Cherrywood Lotto and Bookshop co-owner Chris Dunn said it was not often both games had large jackpots simultaneously.
"We've had increased sales and people have had a lot of fun with it. When it gets to this stage, people who may not buy it regularly may have a crack, or people form a work syndicate."
Tauranga City Lotto owner Balbir Singh said his store had been busier since the prize money for the two games began climbing.
"We are very busy, chances are always good," he said.
NZ Lotteries corporate communications manager Emilia Mazur said people who did not regularly play Lotto started buying tickets when there was a big jackpot, so naturally they usually saw increased ticket sales in large jackpot weeks. She said sales for Big Wednesday and Lotto in the Bay of Plenty last week increased by more than 30 per cent compared to last month's sales.
"When the jackpots start getting this high, it really captures people's imagination and gets people thinking about winning 'the big one'."