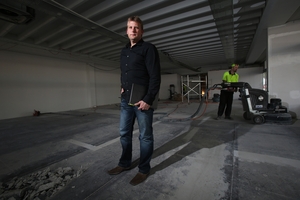 A Tauranga company specialising in high-end office fit-outs is so confident in the commercial future of the city's central business district it is moving its showroom downtown.
Modern Office started in a small Willow St office in 2007 before moving out to a showroom in Judea in 2010.
In two weeks' time, the company will move back into the CBD - into a showroom three times the size of its current one - to showcase a new range of architecturally-specified furniture and a new way of working.
Modern Office was awarded sole New Zealand agency of Turkish furniture range Nurus three months ago - prompting the company to seek more customer exposure in Tauranga and beyond.
Director David Littlewood said the company would be seeking to secure a showroom in Auckland in the first half of next year, and expansion into Hamilton and Christchurch might follow.
He said the company had traded strongly through the recession with year-on-year growth of about 20 per cent since 2007 and a number of high-profile office fit-outs in the new ANZ and Sharp Tudhope buildings.
"It's starting to pick up even more and so we're predicting strong growth for the next 12 months."
Despite the CBD's struggling retail sector, the central city had a strong commercial future, Mr Littlewood said.
"I think we're entering a growth phase, not just our business but in the city. There's some really good projects coming up."
Modern Office fitted out a number of new offices in Tauranga's CBD - such as KPMG, Bayleys, Powerco, Sharp Tudhope - and the new style of offices the company had been installing were in stark contrast to the "good old tawa slab-end corner work-station that Tauranga is renowned for".
"One thing that's going to be big in the future is activity-based working and that's having a lot more soft seating areas and hot desks.
"With technology these days, why sit at a desk and do emails when you can sit in some nice soft seating and have a coffee.
"You can be just as productive in that scenario."
Mr Littlewood and co-director Adam Hazlett intended to demonstrate the new style of working by moving their own offices into the new showroom.
"We want to showcase the products we're putting forward and show how they actually work in a real working environment."
The pair, and their two sales staff, will move into the new showroom on the corner of Devonport Rd and First Ave on September 20, but will not show their new office to the public until the middle of next month.