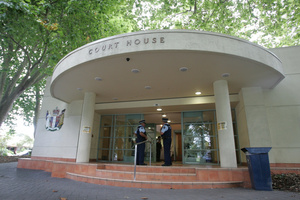 A female teacher accused of stealing a student's medication asked the girl's father to delete text messages she sent him about the missing drugs, a court was told.
The woman, who has interim name suppression granted on medical grounds, began defending a charge of theft of the Class B controlled drug, Concerta, in the Tauranga District Court yesterday.
Concerta is a prescription drug which treats attention deficit hyperactivity disorder (ADHD).
Police allege that on two occasions between May 24 and 28 this year the teacher, who suffers from depression, stole the tablets for her own use, and to also assist with weight loss.
Several school staff, including the nurse, office manager and a deputy principal gave evidence about their concerns for the defendant after she began displaying "bizarre" behaviours, her attendance became erratic and she began to lose weight rapidly.
The deputy principal said staff began noticing medication was going missing in late February and new safety procedures around dispensing drugs to pupils were put in place. Two dispensing logbooks had earlier gone missing, the court was told.
The deputy principal said she learned on May 28 that the student was bringing tablets to school rather than taking them at home as arranged. She was also told the label on a tablet bottle was missing and said she became gravely concerned.
The screwed-up label from the medication bottle was found in the rubbish bin in the defendant's office and inquiries had established that 11 of the original 29 tablets were missing, she said.
The deputy principal said the defendant had changed the agreed dispensing routine without consulting the school principal, and other tablets were also missing.
Another staff member said: "When I told her [the defendant] that 'I think you're addicted to something, and you're not well', her eyes welled and she left the school in tears."
The student's father said that on May 24 his daughter had been sent to school with 10-12 tablets with instructions to give them to the defendant at her suggestion, which was contrary to a Board of Trustees ruling. Two days later he received a text from the teacher informing him the tablets were missing.
"She was stressed and told me if the tablets couldn't be found she would probably be fired and there would be a police investigation."
He had said not to be worried at first because he trusted the defendant and organised another script but "alarm bells" went off when he learned more of his daughter's tablets were missing.
The father said that on May 28 he received another text from the defendant asking him to delete any text message communications they had exchanged about missing drugs.
When he called her, the teacher sounded "very panicky", he said.
The student confirmed on both occasions she gave the tablets to the defendant.
A pharmacist said the drug had side effects as well as benefits for some users, including depressing appetite.
The court was told that the defendant had been importing ADDTabz - a dietary supplement aimed at improving cognitive performance - and arranged for it to be sent to other people's addresses.
The hearing continues today.
What is Concerta
*Class B controlled drug containing methylphenidate hydrochloride.
*Methylphenidate is a central nervous system stimulant.
*Prescribed to treat ADHD (Attention Deficit Hyperactivity Disorder).
*Increases attention and decreases impulsiveness and hyperactivity.
*Concerta is available in an extended slow release tablet form.
*Symptoms of an allergic reaction may include rash, shortness of breath, swelling.
*Side effects may include loss of appetite, stomach or bowel problems, dizziness, painful or swollen joints, anxiety, aggression, blurred vision.
- MedSafe New Zealand