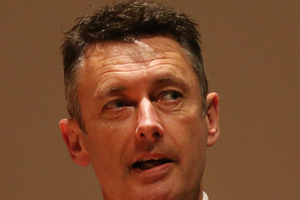 As far as U-turns go, it was pretty impressive. Bowing to public pressure, Mayor Stuart Crosby used this week's mayoral candidates' forum to announce a reversal of the council's unpopular decision to hike parking charges to $3 an hour.
The cost of parking in the downtown's main shopping streets will revert to $2 an hour.
It took little more than two months for retailers and shoppers to persuade the council to axe the increase, with the decision coming only a fortnight before council voting papers start arriving in mailboxes.
The timing of the announcement, albeit a vague reference during the meeting that was fleshed out after it was over, was perfect for the mayor.
It allowed Mr Crosby to repair some of the damage caused by the unpopular policy while at the same time giving the impression that he was more than willing to listen to the people.
It also ensured coverage of the event focussed on the newsworthy announcement.
If that was the intention it was a deft, if calculating, move that cut the other candidates off at the pass.
Some downtown retailers have welcomed the decision while others do not think it goes far enough.
Earlier this year, the Bay of Plenty Times delved into the thorny issue of Tauranga's downtown, trying to answer the question of whether it is dying, or whether it is a vibrant area with plenty of potential, and what else is needed to improve it.
Some retailers said the answer lay in the growing number of empty shops and identified paid parking as a major issue that put them at a disadvantage to other shopping centres in the city where parking was free.
It is good to see these retailers are finally getting some support from the council - even if that support came just weeks out from local body elections.
Town centres provide a focal point and an identity.
They also provide an environment where small boutique stores and food outlets can carve out a place in the market. Town centres provide variety and atmosphere in contrast to the uniformity often seen in malls.
The downtown is worth protecting.