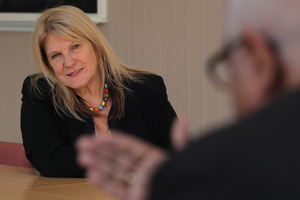 Labour list MP Darien Fenton says proposed changes to New Zealand's employment law will blindside people if they do not get up to speed with how significant the changes are.
Ms Fenton, who is spokeswoman for labour issues, was in Tauranga yesterday to speak with hundreds of workers likely to be affected by upcoming changes in the Employment Relations Amendment Bill. She is on the select committee hearing the bill and spoke with meat workers, supermarket and railway workers and hospital kitchen staff in the Western Bay of Plenty.
The proposed changes are expected to remove collective bargaining, resulting in a weakening of unions. But the amendments would impact a much wider workforce, Ms Fenton said.
Collective bargaining helped set a benchmark for wages and without it, people would be poorly paid, she said.
Ms Fenton said unions were also important for collective agreements, which people benefited from regardless of whether they were union members.
"The four weeks holiday a year is a really good example that would never have gotten into law if the unions had not fought for it. Forty per cent of the workforce is covered by collective agreements, or got the same terms and agreements that unions negotiated for."
Ms Fenton also referred to "vulnerable workers" such as cleaners and kitchen workers, whose employers changed every two to three years.
Under the current law, the new owner is bound by existing contract conditions, which was expected to change, Ms Fenton said.
"What they are proposing to do is make it so only major employers are covered by that protection . . . the problem with that is most cleaning companies or employers have fewer than 20 staff."
If Labour got into power next year, the first thing it would do would be to repeal the changes, Ms Fenton said. "They are unfair and not needed. I find it hard to understand why the Government would want to do it. It's already tough for workers out there."
Minister of Labour, and Tauranga MP, Simon Bridges said the changes in the bill were about increasing flexibility and fairness in the labour market, which in turn would increase productivity.