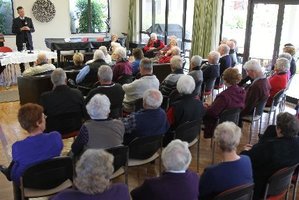 Mayor Stuart Crosby told a group of disgruntled lifestyle village residents paying rates was not fair and a "draconian" way to raise sufficient revenue to run the city.
Mr Crosby made the comment yesterday when he and the Tauranga City Council's rating expert Jim Taylor met with a group of 55 residents from Havenbrook Village, Orange Grove Village, Bridgewater Village, Sea Crest Village and Harbour View Park who had concerns about the amount of rates they were paying.
The meeting was called after one Havenbrook Village resident approached the Bay of Plenty Times earlier this week, saying she believed she and her fellow village residents were paying unfairly high rates because they already paid for their own roading, footpaths and maintenance through body corporate fees.
Their average rates bill was between $1800 and $2000.
Mr Crosby explained the operational cost to run the city each year was about $170 million, of which $105 million or 60 per cent was raised from rates, and the balance came from user fees and charges, and also a small fee from the government for use of local roads.
"The first thing I will say about rates is there is nothing fair about it. It's a ruthless, draconian way to collect enough revenue to run our city each year," he said.
One Sea Crest Village resident said he had calculated that council collected about $90,000 a year in rates from him and his fellow village residents, yet they still had to pay for several amenities. "It's just not fair," the man said.
Mr Crosby responded: "I accept that's not fair or equitable but because this is a private facility under the current legislation council's responsibility ends at the boundary gate ... No rating system can ever be entirely fair or equitable to everyone, but the capital value rating system appears to be the fairest system for Tauranga to ensure we can run the city."
Mr Crosby cited his own rates bill as an example. Four months ago he and his wife were paying $2100 rates for a 5500sq/m property with no facilities, and after moving to a 386sq/m property in Papamoa Beach their rates bill increased by $100.
Mr Taylor invited the aggrieved residents to discuss whether they might be eligible for an annual rebate.