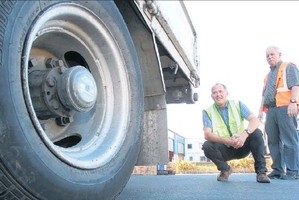 A Tauranga design engineering company is on the cusp of starting production of an industrial safety product which could be worth hundreds of millions of dollars.
Multifid in Greerton has developed an electronic device which can track the movements of people working in proximity to heavy vehicles/machinery and warn the operator - a technology that could save lives and prevent hundreds, if not thousands, of costly accidents.
The device uses sonar equipment to track workers and radio equipment to send audio warnings to operators when their workmates are close by or behind a large object the operator intends moving.
A reversing truck driver may hear a warning like "stop, stop, stop, Tom is behind you".
Multifid owner James Graham has been working on the project for two years and last year brought in Paul Edwards to market the product, SonaSafe, through a company called Toi Mata.
Edwards said he could see SonaSafe becoming a standard piece of safety equipment in a variety of industries, from ports and forestry through to warehouses and civil engineering projects.
The pair were approaching New Zealand businesses first but planned to go global once the product was established.
"If we get it out globally it will be worth hundreds of millions [of dollars], and we know there's interest because no one's yet developed a safe and secure proximity device," Edwards said.
Sonar had a distinct advantage over GPS systems because there was no delay in relaying information and the sonar device could track people to within 15cm of their actual position - a crucial improvement on GPS, which often had a variability of metres.
Trials of SonaSafe were being done by the ports of Napier and Wellington - the Port of Tauranga had also indicated a desire to test the product - and a big forestry company operating in the Eastern Bay of Plenty would trial the product this month.
Multifid was ready to start production of the units as soon as the orders came in, Graham said.
He had already made a decision to keep production in Tauranga - a decision based on a desire to help keep employment in the Bay and protect the company's intellectual property at the same time.
The company would need to employ additional electrical engineers once production started and could employ up to 15 new staff within the next five years, he said.
In the meantime, Edwards and Graham were hoping the production orders came in soon, because cashflow had become a major concern for the business.
Both men were living on their savings and had accepted only limited investment into their business in an effort to maintain maximum control.