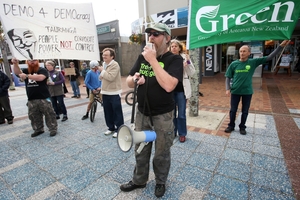 Traffic stopped as Tauranga residents marched through the city centre yesterday.
The rally aimed to highlight concerns at a loss of democracy in New Zealand. It was one of several marches held around the country yesterday at 2pm.
Rally leader Noel Peterson said the Government had bulldozed its way to change laws without consulting the public.
The event was about making sure opposing voices were heard, he said. "We don't get to say what we want to say on things. They're just done. It's time we ... took a stand."
Despite placards and a megaphone, the event was not a protest but a "demo for democracy" Mr Peterson said.
"We've got the democratic right to come together and voice our concerns. That's a democratic right to speak."
The rally began at Tauranga's waterfront and marched across Devonport Rd to Mid-City Mall where Mr Peterson and others spoke to the crowd of about 40.
Event organiser Michael Morris, who is standing for the Tauranga City Council at large in next month's local body elections, said the rally group comprised people representing concerns for several different issues but the overarching theme was the wish to be heard. Issues included animal testing as part of the Psychoactive Substances Act, changes to the Environmental Act 1986 and corporate greed.
"There's been a breakdown of democracy in New Zealand," he said. "Perhaps greater awareness will help. Also it's an election year. Hopefully people will get out and vote. Young people don't really seem to vote in the local elections, and they should."
Democrats Tauranga candidate Katherine Ransom said people needed to know how much democracy had already been lost by the Government. "We've lost the whole concept of 'power to the people'. [The rally] is about trying to get that back," she said.
Senior citizens Ron and Maureen said the Government appeared to be more concerned with making money than protecting people's rights. "The Government aren't listening to people," Ron said.
Maureen said demonstrating their concerns was important for their grandchildren. "I'm here for my grandchildren. Their lives aren't going to be good for them if it keeps going like this," she said.