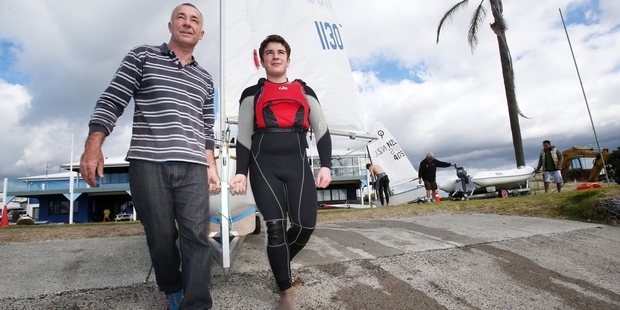 For many families on the calm blue waters of Tauranga Harbour yesterday, there was no better way to spend Father's Day.
Tauranga Yacht and Powerboat Club held a Father's Day Fun Day from 12.30pm to 4pm to encourage would-be sailors on to the sea as a way to better enjoy the ocean.
Mount Maunganui dad Brent Burman was brought along by son Ezra Burman, 8, who heard about the day at school.
"We've had a little play at sailing before and it's quite fun. This is the first time I've heard about the Father's Day thing, though," Mr Burman said.
The two came prepared with wetsuits and lifevests for a venture on one of the club members' Tornadoes.
"We want to go on a catamaran, I know they are pretty quick."
Mr Burman had already been treated to a breakfast-in-bed and said the day in the sun and on the water was a great way to enjoy Father's Day.
Ezra said he wasn't scared: "I really like surfing so I wanted to give this a go."
Club member Stuart Pedersen said they wanted to ensure catamarans were available for people, following on from the attention given to the watercraft from the Louis Vuitton Cup and upcoming America's Cup.
Mr Pedersen said the day was about "giving people the chance to go for a sail".
"People who aren't part of the club, who haven't gone for a sail before can go out and have the chance and hopefully while they're at it they get interested in other club activities," he said.
The event was also a club fundraiser and has been held for the past three years.
"The idea is fathers can come down here with the kids and have a break, or mothers can come down here while dad goes to the golf course and has a break."
Most parents and children opted for sailing in one of the club's 11 keel boats, while others like the Burmans preferred to get wet aboard a speedy catamaran.
Commodore Gary Smith said Father's Day meant different things to different people, "but whether it's dad looking for a chance to relax, mum wanting to arrange some father/child bonding time, or the kids wanting to give dad something more than a cup of tea in bed, this fits the bill".
Yesterday, three club members - Peter Burling, Sam Meech, and Jason Saunders - began sailing in the Youth America's Cup Challenge in San Francisco, with Peter's father Richard Burling as media manager.
Fathers also enjoyed the day in the water at the Mount Hot Pools with live "dad" music and competitions to win rugby shirts and balls.