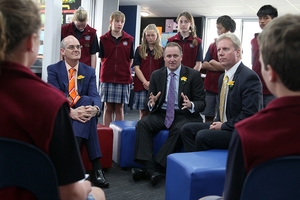 Prime Minister John Key says moving on from Psa is one of the biggest issues facing the Western Bay.
Mr Key spoke to kiwifruit leaders in a private meeting in Te Puke yesterday, as part of an official visit to the town.
Bay of Plenty MP Tony Ryall, Tauranga MP Simon Bridges, Rotorua MP Todd McClay and Western Bay of Plenty Mayor Ross Paterson joined him.
Mr Key told the Bay of Plenty Times Weekend Psa had hit Te Puke hard and moving on from its fallout was one of the biggest challenges the region would face in years to come.
Despite a full itinerary that included the formal opening of a refurbished Te Puke Library and relocated New World supermarket, the meeting with kiwifruit stakeholders yesterday afternoon to discuss Psa was something Mr Key said he particularly looked forward to.
"We've been on track monitoring the enormous impact it's had on kiwifruit, particularly gold, so I'm really wanting to get a sense of how they think things are going, how optimistic they are for the future, what kind of financial pressure they remain under," Mr Key said.
Mr Key said he hoped new cultivars being created in response to Psa would help reduce the impact of the vine-killing disease.
"Agriculture is still a big issue. If we can get a free trade issue for Korea, for instance, that's hugely important in terms of kiwifruit sales, and if we don't get it, that has a big impact in terms of our capacity to compete against countries like Chile that do free trade agreements. Roading is also a pretty big issue [for Tauranga], with the bypass coming through."
New Zealand Kiwifruit Growers representative Mike Chapman said the matter of how the industry would recover and move on was a key topic discussed with Mr Key at the meeting.
Mr Chapman said Mr Key's assertion of Psa as a major issue for the Western Bay was well justified.
"It's number one, absolutely number one.
"At one point, we were between 20 and 30 per cent of the region's GDP. It does impact. If we recover, which is what it looks like it is doing, we can catch up to that. But we've got to get through spring."
Mr Chapman said there were some positive signs within the industry.
Green Growers Association chairman Mike Smith said Psa still weighed heavily on the mind, even though their kiwifruit variety was less at risk than gold.
"It's early days yet. Our worst months are to come.
"October is the telling month, whether it's going to be good or bad."
Warmer, wetter weather were ideal conditions to help Psa spread.
In a visit to Te Puke Intermediate School, students questioned Mr Key, Mr Ryall and Mr McClay on what the Government would do to help the area cope amid Psa's fallout.
Mr McClay said it had been difficult for many people "but I sense we are starting to come through it".
"There are some varieties showing some promise." Mr McClay referred to the growers' meeting as "quite positive".
When asked what the Government was doing to help Te Puke schools cope with falling rolls, as a result of Psa and families moving, Mr Ryall said he thought schools were doing well and "really stepped up to the mark".
Mr Ryall, who is also Health Minister, referred to ensuring health services such as nurses and guidance counsellors were available for students feeling pressures from home.
"I think we've probably seen the worst of the huge numbers of people leaving," Mr Ryall said.
Mr Key and the ministers also visited staff and residents at Vincent House training centre.