Survival week to week is difficult juggling act, says elderly Bay woman.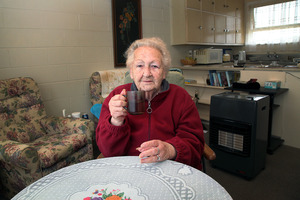 Single pensioners with no other income are surviving on just over $100 a week, a report says.
The revelation is contained in a Massey University study on the expenditure of retirees and comes after the Bay of Plenty Times reported that 40 per cent of over-65s are living on the pension alone.
The New Zealand Superannuation standard rate at April 1 for a single person living alone was $357.42 after tax or $549.88 for a couple.
For a single pensioner on a no-frills budget, the study found of the $113.35 left after rent, $70.73 was spent on food and power alone. Not budgeted were health costs, alcohol, tobacco, clothing and footwear.
For Bureta resident Bev Davis, living on the pension is a fortnightly juggling act. Mrs Davis lives in a one-bedroom council flat and has about $150 after her living costs are deducted.
If unexpected expenses cropped up, she said she would have to get a loan.
"I went shopping on Tuesday and got three little bags of food that cost $47 and that's only a week's worth. It's a joke."
Mrs Davis, who lives in a council flat, pays a set amount of money to the doctor each week in advance so she won't be hit with a large bill.
Everything electrical in her house is switched off when not in use.
"I'm very power conscious, you have to be. I spend a lot of money on health and use my SuperGold card wherever I can for discounts.
"I used to have a car but I had to get rid of it and now use the bus, which is free."
Tauranga Budget Advisory Service manager Diane Bruin said retirees went to them for assistance: "One of the biggest costs for elderly people is dental, and health is also a big one."
Many pensioners were frugal with electricity to save money. "They will put a blanket over themselves while watching TV rather than heating the home."
Mrs Bruin thought the budget of $113.62 was reflective of many Tauranga pensioners.
Grey Power Bay of Plenty and coastal districts president Ruth Dekker said her idea of a comfortable, not extravagant, retirement income would be about $1000 a week, which would allow saving for a modest holiday.
"I worked until I was 75, I think a lot of people will have to ... so they can have some reserves they can put out at interest and have a bit more than the basic pension."