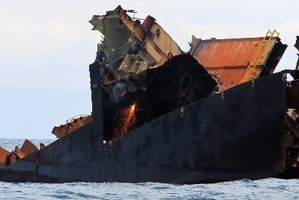 A further $542,000 of taxpayer money is being spent on the clean-up following the Rena grounding, as the second anniversary of the disaster approaches.
The money will go towards continuing the environmental recovery programme - bringing total Government funding to $2.42 million.
"The extra funding will be used to continue the monitoring of water quality and kaimoana, restore shorelines, protect wildlife and assess the mauri of the Bay of Plenty area,'' Environment Minister Amy Adams announced today.
"The programme identifies the environmental issues for the beaches, seabed, water fisheries, wildlife and management of waste, and sets out the responsibility for the recovery and monitoring of each aspect,'' she said.
Progress had been made, however more needed to be done, Ms Adams said.
"While good progress has already been made to date, it is important that we continue to monitor the Bay of Plenty environment to give us a better understanding of what still needs to be done.''