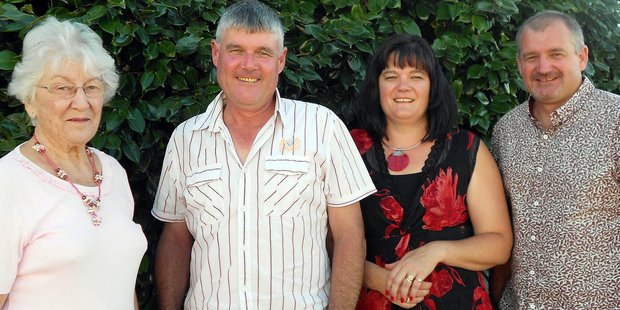 The family of former Te Puke man Richard Primrose says he was pursuing his "absolute passion" when he was killed in a plane crash in South Africa last week.
The 49-year-old father of two adult daughters and fellow Kiwi John Walton were killed while flying in formation with two other aircraft filled with tourists on air safari last Thursday.
The Cessna 182 the two men were in crashed into mountains in remote Mpumalanga, 300km north-east of Johannesburg.
Mr Primrose's Te Puke-based family, who spoke to the Bay of Plenty Times last night, were struggling to come to grips with his death, especially as the cause of the crash was still not known.
It has only just emerged that Mr Primrose, who was born in Whakatane, was a former Te Puke resident.
He moved to the area with his parents, Margaret Primrose and the late Ben Primrose, when he was a 1-year-old.
His 78-year-old mother and his younger siblings Andrew and Susan said he was "a much-loved, good man, great father", who had his life cut short while doing something he adored.
"Flying was his absolute passion. It was Richard's fourth trip to Africa and his third flying trip to South Africa. He just loved the place," his brother said.
It was his grandfather Dick's childhood tales of Africa which first planted the seed for Mr Primrose that he must visit the place, and once he did he never looked back, his mother said.
Mrs Primrose said the crash happened the day before her son was due to fly to Pretoria, then on to Johannesburg, before flying back to New Zealand.
When she was first told the news of her son's death she "went into shock".
"I still may very well be. It's hard to take it all in," she said.
Mr Primrose's passion for flying was cemented as a teenager when he used to build model airplanes, and his mother said her son was determined to get his pilot's licence despite her attempts to dissuade him. He was also a member of a syndicate which owned a plane.
"Richard used to fly every chance he got, both in New Zealand and overseas," she said.
Mr Primrose did his early schooling in Te Puke before attending St Paul's Collegiate.
He did an apprenticeship as a fitter and turner, specialising in hydraulics engineering, first working for Edwards Engineering, then at Glenbrook Steel Mill, before doing his OE. When he came back to New Zealand he set up his own hydraulics engineering business.
His clientele included fishing boats and pleasure yacht owners, and he worked on superyachts at Auckland's Viaduct Basin during the 2003 America's Cup.
Mr Primrose was also a former firefighter with Te Puke Volunteer Fire Brigade and Pukekohe Fire Brigade after moving there in 1987 just before he married his wife Kim.
His sister said her brother only resigned as a volunteer a few years ago due to work commitments.
Mr Primrose was also a member of Te Puke Dive Club.
"Richard was a man of few words but if you wanted some advice and needed an honest answer you could always rely on him to tell you the truth. You might not like the answer but if you had a problem he was always very supportive. We will all miss him terribly."
The cause of the accident was being investigated by the South African Civil Aviation Authority, and it was still not known whether Mr Primrose was at the controls.
No date had been set for Mr Primrose's funeral.