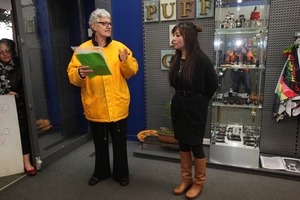 The Te Puke retailer at the centre of a community protest against the sale of synthetic cannabis say users will buy it on the blackmarket or travel outside the community if the shop did not stock it.
Te Puke Puff2Go owner Lynsay Zuo said a survey of 100 customers, carried out when the product was sold at her Mayfair Dairy before the Psychoactive Substances Act was passed, showed the average age of the purchaser was 36 and the youngest was 22.
The survey also found 90 per cent of those who purchased the products were male and 88 per cent said they would travel out of town to buy the drug if they could not do so in Te Puke.
Ms Zuo said the store sold an average of 90 packets each day.
Only a small percentage of users were adversely affected by the "legal highs" compared to the huge number of deaths caused by alcohol and cigarettes, she said.
The sale of the substances seemed to be keeping people away from illegal drugs and alcohol, she said.
"There are many, many customers that are now staying away from alcohol and the local drug dealers' houses because they now feel that our Government has finally given them a way to make their choice in how they relax, socialise, manage pain and live freely within their own choices," Ms Zuo said.
The Act, passed last month, means the products had to be vigorously tested and provided a regulated avenue for their sale as opposed to an illegal black market trade, she said.
Di Leach, organiser of last week's protest, said just because there had been no deaths did not mean the substances were not doing harm.
"I think age is irrelevant," she said.
"If you're under age or over age it's still going to have the same effect on you," she said.
Ms Leach said she had spoken to parents and health professionals who confirmed the detrimental effects synthetic cannabis were having on users.
"The harder it is for somebody to buy it the less people will buy it," she said. "We just don't need it."
A Ministry of Health spokesman confirmed a licence for Puff2Go to sell psychoactive substances was still under consideration but a decision would likely be made this week.
Retailers could legally continue to sell the products until a decision on their licence had been made, he said.