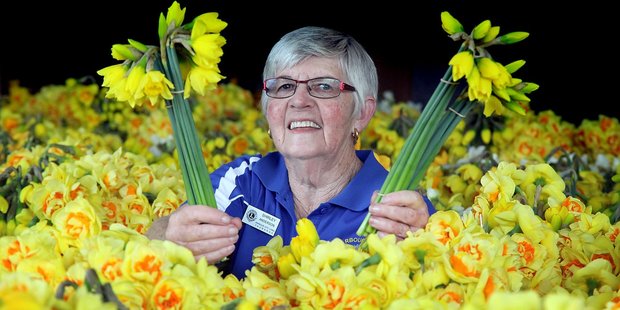 A sea of yellow, orange and white daffodil bunches filled the Tauranga Church of Jesus Christ of Latter Day Saints yesterday as volunteers packaged up the flowers for this year's Daffodil Day.
The flowers were divided and wrapped in a yellow ribbon to raise money for the Cancer Society ahead of Daffodil Day on Friday.
The society provides free support services to anyone in the Bay of Plenty living with cancer and offers much-needed accommodation and services for patients requiring treatment in Waikato.
In the Bay of Plenty District Health Board area, 1252 people were registered with cancer in 2009 and 1239 people in 2008. The figures are the most recent available.
A total of 1285 bunches were packaged up to be given to businesses that ordered the flowers for $35 each, raising $45,000.
Waikato Bay of Plenty Daffodil Day co-ordinator Denise Carroll said volunteers spent two weeks ringing around Tauranga businesses to take orders for daffodils, as they have done for more than 20 years.
"When we started, the ladies were doing it on foot. Then it grew from there, and just grew and grew and now we use the phones."
Cancer Society spokeswoman Rachael Mounsey said all money raised would stay local.
"The Cancer Society receives no direct Government funding, so relies on the generosity of New Zealanders to operate."
Last year more than $600,000 was raised in the Waikato and Bay of Plenty region.