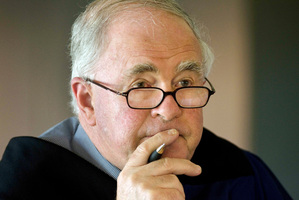 Financial abuse at the hands of family members could be behind alarmingly high elderly suicide rates, a Tauranga advocate says.
The comments followed the release of provisional annual suicide figures which showed the highest suicide rate was among men aged over 85.
The figures, released yesterday, were for the year ending in June and showed that, nationally, nine men aged over 85 took their lives.
The Rotorua coronial office dealt with 49 suicides in the last year, down from 51 the year before and 60 in 2010/2011. The Rotorua office covers Tauranga, Putaruru, Rotorua, Taupo, Tokoroa and Whakatane. Separate figures for Tauranga were unavailable.
Age Concern Tauranga chairwoman Angela Scott was "disturbed" at the figures: "It just reinforces the fact that we do need to care for our older people and certainly be aware that social isolation can be a real problem."
Preventing elder abuse - a problem in Tauranga - would also help prevent suicide.
"It's very, very distressing ... a lot of it is financial abuse, and the families are often involved unfortunately."
However, more elderly were coming forward to seek help.
Age Concern Tauranga had a visiting service that worked "exceedingly well" for elderly people who were socially isolated, she said.
Chief Coroner Judge Neil MacLean said the rates were a surprise, and more attention would be paid to the elderly.
"It is a grey, uncertain area, but we need to know a lot more about it," he said.
Suicide among elderly was sometimes difficult to identify, particularly in cases of "slow suicide".
"That's the person that's starving themselves, refusing their medication, simply giving up the will to live. It merges sometimes with euthanasia and that's a very grey area."
Tauranga Te Papa Probus Club secretary David Garland said he was shocked that the rate was higher among the elderly than the youth.
"I would not have thought that, although I must admit that it doesn't totally surprise me," he said. "I think you would find that if you drill down, the highest percentage would be men who have lost their partner.
"So many guys have been involved in active business all their life and when they retire they are not interested in doing anything and then when their wife passes away they are very lonely."
Mr Garland, who lives in Bridgewater Village with his wife, said it was important for elderly single men and women to live in a retirement village, because neighbours became "family". Joining clubs such as Probus and the Men's Shed, or volunteering were ways to get to know people and give back to the community.
The figures also showed women were catching up to men in suicide rates. More women and fewer men took their lives in the past year.
Judge MacLean said the gender shift appeared to be the most significant emerging trend, and mirrored the rising number of women involved in violent crime: "I wasn't surprised to see it, because I'm aware of the same trend occurring with violent crime."
Suicides among women and girls increased from 142 in 2011/12 to 153 in 2012/13. Among men and boys, the number fell from 405 to 388. While the female suicide rate per capita was still well below that of males, it had been increasing since 2007.
Suicides in Christchurch City had dropped since the earthquakes, something seen internationally after major disasters.
Maori youth suicide had dropped, with suicides among those aged 10 to 20 down from 46 to 26.
New Zealand's suicide rate remained high by international standards, Judge MacLean said.