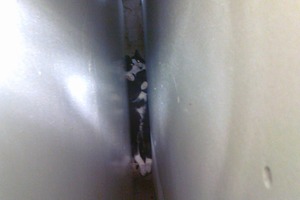 A cat spent more than seven hours stuck between a wall and a kitchen cabinet.
Rochelle Withell said her partner was leaving for work about 5am yesterday when he spotted an unfamiliar cat in their Welcome Bay home.
"We had a window open downstairs so it must have got in through there and it got spooked when Nick was in the kitchen,'' she said.
"It just jumped on top of the cabinets and fell down the back.''
She said the cat fell at least two metres and was wedged in place.
"I got up because I heard all this noise and at first I thought a cat was in the pantry.''
Ms Withell said she spent several hours trying to coax the cat our from behind the cabinet but it couldn't move.
"I went out to all the neighbours to see if they knew whose cat it was.''
She said some of her neighbours, Wally Kilham and Peter Zimmerman, volunteered to give up their morning and try and help to free the cat.
"I hadn't met Wally or Peter before so I was amazing they would come and help. It just shows the great community spirit.''
Ms Withell said the duo used some fishing equipment to push the cat up and out from behind the cabinet.
"It was really hard work and we couldn't have done it without their determination.''
She said she was lucky her partner had spotted the cat and where it went.
"During the whole thing it didn't make a sound so if we didn't see it we probably wouldn't have known it was there.''
She said once the cat was freed it "took off'' towards Otaki Park Drive.
"It was a very eventful day.''