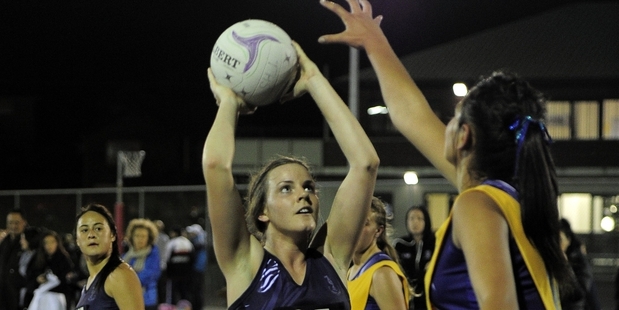 The 2013 secondary schools netball competition's finals night was held at the Harbourside Netball Courts on Friday night.
It was a mixed night for Tauranga Girls' College as they celebrated having six out of the 14 teams in action but they lost both the division one and two finals.
The 41-30 loss to Trident High School in division one was predicted as the girls from Whakatane are one of the best teams in the country, ranked number four compared with Tauranga Girls' 27th ranking. Trident are coached by Waikato Bay of Plenty under-23 coach Mary-Jane Araroa.
The final was fast paced throughout with Trident's superior speed in the transition through the court a major standout. They also played a more aggressive Australian-style of play and numerous times Tauranga Girls' players were sent crashing to the asphalt surface.
Teacher in charge of netball at Tauranga Girls', Jackie Gould, says this is the first year Trident have played in the local competition and they have lifted the standard.
"It has definitely lifted our game," she said. "It was a very physical game and in this area we tend to play more off the ball whereas they play on the ball. It is not a bad thing but our girls aren't used to it."
Gould was pleased to have six teams from Tauranga Girls' in the finals but she has some concerns at the declining numbers playing netball at the college.
"We have 20 teams in the competition, which means we are probably at our lowest numbers ever. I don't know if that is to do with the cost but we seem to be getting more competitive teams through but we used to have quite a few social teams.
"The cost is a huge factor. We lose a lot of our raw talent because of it. It is $500 to enter a school team and then there are uniforms. There is no sponsorship for uniforms; it all comes out of the kids' fees.
"We used to have 34 teams when I started six years ago so the numbers have dropped off but I must say the quality coming through from Tauranga Intermediate is probably better in the last couple of years."
One of the biggest roars of the finals' night came when Mount Maunganui College Junior A beat Tauranga Girls' Junior A 30-27 to take the division two title.
Mount are coached by Waikato/BOP Magic player Jodi Tod-Elliott who says they overcame the odds to make the final.
"We were fourth going into the semifinals last week and we played number one and beat them. But our season against Tauranga Junior A has been one all and tonight we pulled together in the tough times and didn't lose it when it got hard.
"This is the second year this team has won their division and I think netball is always well organised at the school. The girls always give 100 and that's great."