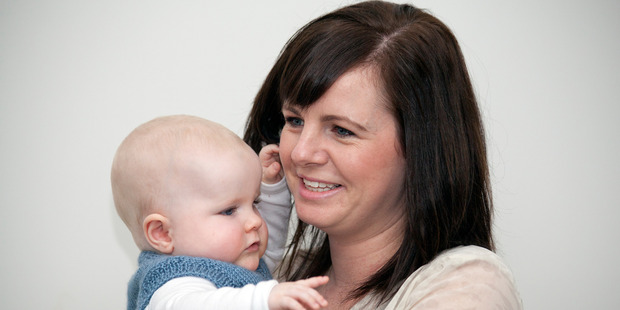 LOCAL women and community leaders were today welcoming the news that a $5 million, privately operated birthing centre is set to be built on their doorstep.
Construction of the 12-room Bethlehem Birthing Centre, the brainchild of Tauranga business-woman Chloe Wright, who owns childcare chain Kidicorp with husband, Wayne, is set to start next month and is to open in September 2014.
First-time mum Michelle Whittaker, 25, who gave birth to son Cooper on November 19, 2012, said it was great news.
"Giving birth is supposed to be a natural experience, and giving birth in hospital just doesn't feel natural, it feels a bit too clinical," she said
"I was in hospital for four days after Cooper was born and could have stayed longer but I didn't like the feeling of being locked up, and didn't like the fact that my husband wasn't allowed to stay with me at night."
Friend Monique Benjaminsen, 23, who gave birth to Olivia, 8 months, in Tauranga Hospital before being transferred to a special care unit, said she was "stoked".
"It's awesome news. Next time I would most definitely use the birthing centre because of the level of care they offer. I'm sure it would be a far less stressful place to give birth," she said.
Trudy Hart, spokeswoman for Birth Connection BOP, said it was "long overdue" good news, having first lobbied for a centre 25 years ago after having her first baby, and not long after the Te Puke Maternity Ward annex was closed.
"I couldn't be happier. Research shows that births in community birthing centres result in far fewer infections and fewer interventions, and mothers also report having a far more satisfactory birthing experience," she said.
Tauranga MP Simon Bridges said: "I think it's brilliant. I think a lot of people from outside Tauranga think we are a city of only retirees, but there has been a huge influx of young people moving here in recent years. I have had lots of people in the past two to three years talking to me about the need for such a centre, including my wife Natalie."
Mayor Stuart Crosby said any significant investment in the city such as this was great news and was a sign of confidence in the economic future of Tauranga. "It will not only provide jobs but more importantly offers [mums] more choice where they give birth."
The Bay of Plenty DHB would provide some funding toward the centre.