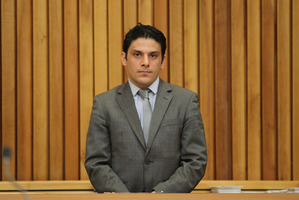 A former Tauranga doctor caught driving grossly drunk after leading police on a high-speed pursuit has surrendered his medical practising licence.
Mustafa Sabanli, 30, who earlier admitted charges of driving with excess breath alcohol, dangerous driving and failing to stop, was sentenced to 12 months supervision and 130 hours' community work yesterday.
He was also banned from driving for 12 months, and ordered to pay $2807 reparation.
Sabanli was caught drink-driving at more than double the breath alcohol limit on June 17 after police spotted his Audi being driven erratically on Takitumu Drive.
They signalled him to stop, but Sabanli drove on, reaching speeds of more than 130 km/h.
He eventually lost control at Totara St and Hull Rd roundabout and crashed into a nearby factory building, writing off his car.
His lawyer, Paul Mabey QC, said his client was deeply remorseful.
"The sober gentleman standing before you today is light years away from the man who drove that night and the man who wore that silly mask," he said.
On leaving Tauranga District Court on June 25 after admitting the charges, Sabanli wore a Guy Fawkes mask so he could not be photographed.
Mr Mabey said Sabanli, who admits to being an alcoholic, was not trying to be "flippant or mock the court process", and at the time he had not started his rehabilitation treatment.
Mr Mabey said Sabanli, who was now unemployed after voluntarily surrendering his medical practising licence to the Medical Council, was committed to continuing with the treatment recovery programme so at some stage he can return to the medical profession.
Judge Alayne Wills told Sabanli it was clear his addiction was the cause of his offending.
"This driving you accept was appalling and it was dangerous, and the only saving grace for you was this occurred at 3am in the morning when there was no other traffic around."
Outside court Sabanli said he was not proud of himself, and was fully committed to getting himself well.
"I know there are lots of people out there who are really angry with me. I'm deeply remorseful for what I have done, it was extremely out of character. If I could get all the people of Tauranga into a room to say sorry to them in person I would. I know I've let people down."