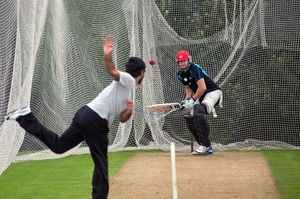 As the old saying goes - build it and they will come.
In this case, as it relates to presenting a rock-hard cricket wicket for the middle of August, the verb in the saying should really be prepare.
That is exactly what Bay of Plenty Cricket Oval turf manager Jared Carter and his team have done at Bay Oval, and, as a result, the New Zealand and Otago cricket teams have proven the adage prophetic.
"A lot of groundsmen, if you start talking about cricket wickets in the middle of August, they just say 'nah it's too tough'," said Volts coach Vaughn Johnson.
"These guys have shown if you put the work in this is what you can get. It's bloody tremendous. Jared and his boys need some good congratulations on what they've done.
"We got a net in outside this morning, which was good, and the conditions are fantastic. The boys have done really well up here."
Black Caps coach Mike Hesson, who will have 10 contracted players in camp this week, said the combination of the facilities and the climate in the Bay is unique in New Zealand at this time of year.
"We came here for both of those reasons and hopefully we get through a whole week.
"The facilities look really good so far so hopefully they last and the weather plays its part. It's a perfect spot for us. The fact that Otago have travelled up here gives the chance to play outside. They've had a bit of net fever and it's a chance to break that up and get up here for a week."
The Otago and national sides are preparing for important campaigns abroad. Otago have again qualified for the T20 Champions League in India, while the Black Caps have an away date with Bangladesh in prospect beginning in October.
Hesson said it is paramount his side is not undercooked heading into the subcontinent, with spinner Ronnie Hira having a good trundle against Peter Fulton and Grant Elliot on Monday afternoon.
"We're heading to Sri Lanka in mid-to-late September and have a camp there with some warm-up games. We've also got guys in the Champions League and away with New Zealand A so everyone is in a different place at the moment.
"In our camp we will play some games against some local teams who will turn it square. That's the best that we can do at the moment - we certainly don't want to be under prepared when we head to Bangladesh."
Johnson is using the week to assess players in the absence of Brendan and Nathan McCullum, Ian Butler and Ryan ten Doeschate, who will join the side next week. "It's a very strong New Zealand/Northern Districts side and we've got about 10 of our squad here so it will be a good workout."
There are millions of dollars at stake in India, but Johnson is stressing the need to keep the focus on the cricket. "It's a lot of money, but if you start to think about that you're thinking about it for the wrong reasons. Ultimately that's the end result, if you do well your going to be financially looked after, but it's more about making sure we are playing some decent cricket.
"We'll see who does well up here this week and take it from there."