Elisabeth Easther finds more than enough to entertain her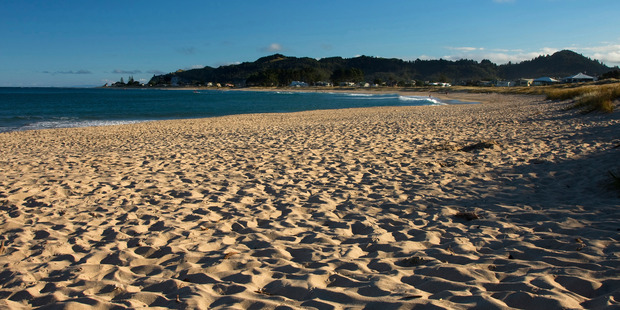 Origin of name: Whanga means bay, mata means hard stone, specifically obsidian.
Population: Approximately 3800, swelling to about 25,000 over New Year.
Where is it: In the Coromandel, north of the Bay of Plenty, two hours drive from Auckland and 124km from Hamilton.
Town slogan: "Whangamata - it's all here for you", but the locals are looking to freshen it up.
Town mascot: A giant surfboard is being constructed and will soon be set up outside the council in Port Rd. With a huge wave as the background, it's going to be big enough to stand on with a bunch of mates, and is destined to become the ultimate Whangamata photo op.
Best local websites: whangamatainfo.co.nz and whangamatanz.com.
Source of pride: The harbour, the estuary, the white sandy beach, the break on the bar - it's one of the best surf and family holiday destinations in the country.
Town competition: There are quite a few surfing and fishing events. January's Nauti Girls, a fishing competition for women, is remarkably well attended, Billabong runs a grommets event for young surfers, and a leg of the Contact Tri Series is held here.
Best place to take the kids: Go to the Beach Rd Reserve for great swimming and a lovely playground. Fishing for sprats off the wharf is fun, too.
Best place for a drink: Whangamata Ocean Sports Club; hook up with a member (or join) and sip your drink while overlooking the surf. Blackies On The Beach in Williamson Park is also popular, or head to El Barrio for an afternoon snack and a cold drink.
Best food: You're spoilt for choice. Visit Nakontong 2 for tasty Thai, Bucks Sports Bar& Grill for good pub grub and Blue Fish Takeaways for fish 'n' chips. For fine dining, try Argo.
Best flat white: Barside. In summer, the pop-up cafe Beachside, next to Roundabout Takeaways, is a winner.
Best bakery: Oliver's does award-winning breads and pastries.
Best walk: Besides strolling the beach, which is gorgeous, Wentworth Valley on the outskirts of town has wonderful walking tracks and waterfalls, and a river that's great for swimming. There's also Parakiwai Valley for energetic bush walking, and Moana Point.
On your bike: There's lots of good cycling and mountain biking here; pick up a map of the mountain bike park (grades 2-5) at the visitor centre. If you don't have a bike, hire one from Pedal & Paddle - it also does a roaring trade in paddle boards and kayaks.
Best park: Williamson Park is perfect for a picnic: you've got access to the beach, shade if you need it, and the surf club's right there so you can swim between the flags.
Here for a short time: Brave the cross-currents at low tide and wade over to Clark Island, or Hauturu. It's great for fans of rock pools or snorkelling.
Best-kept secret: Whenuakura Island. It's also know as Donut Island because there's a hole in the middle and, when the sun shines in, the cave lights up like something from the set of a fantasy movie.
Best shops: Funky Junktion is a wonderful emporium filled with treasures of a vintage nature, including 1950s swimsuits. There's a very chatty parrot there, too.
Big events: The Beach Hop in March is a legendary weekend for hot rod and car enthusiasts. Brits at the Beach, in the first week of October, for British car and motorbike enthusiasts, is also growing a staunch following.
Safety warnings: If you're going to surf the bar, learn the etiquette.
Locals say: "Bloody holidaymakers, they think they own the place."
Visitors say: "Bloody locals, they think they own the place."


GOOD TO KNOW: Whangamata encourages freedom camping, and there are designated areas in which you can do just that.
Thanks to Enterprise Whangamata for sharing.