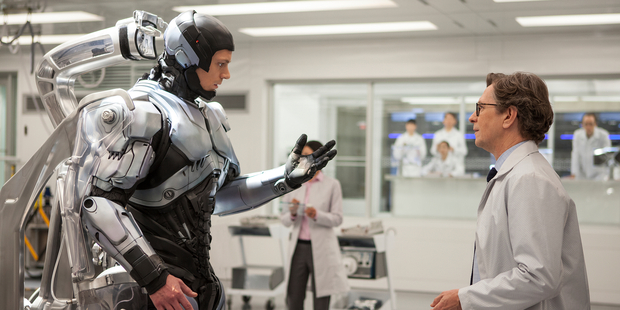 The 1987 original Robocop took in $50 million at the box-office, which was a lot of money 27 years ago.
Although the main character - injured cop Alex Murphy (Joel Kinnaman) - is the same, the pretence under which he is turned into Robocop has evolved over time.
In this reincarnation, the multinational conglomerate OmniCorp has been leading the world with its development of combat and security robots in the world's hotspots.
Using the latest technology available, these robots were deployed successfully in Afghanistan and Iran and were doing a mighty job in identifying and subduing suicide bombers and insurgents.
But Omnicorp boss Raymond Sellars (Michael Keaton) wants to bring his machines on to United States soil as law enforcement weapons. Standing in his way is a US senator and a bill banning robots on the mainland.
When Murphy is badly injured in an explosion, Sellars sees an opportunity to win over the American public with a law-enforcement robot with a human face.
Despite early teething problems, Robocop proves to be a wonderful crime-fighting weapon with an ability to identify any criminal in a crowd and instantly apprehend him.
It is a huge hit.
But everything is not right with Robocop and his wife and son know that the man they know is not the one making the decisions.
They fear he is a pawn in the corporation's master plan and as soon as his usefulness is over his future may be limited.
It becomes a battle between man and machine and who has the greater will to succeed.
Having not seen the original, I make no comparison. But Robocop 2014 is an interesting snapshot of the future and the part robots may play.
In isolation, Robocop has an intriguing story and there's plenty of action to keep the teens engrossed.
(M), 130 minutes
Watch the trailer here:
What people are saying: #robocop