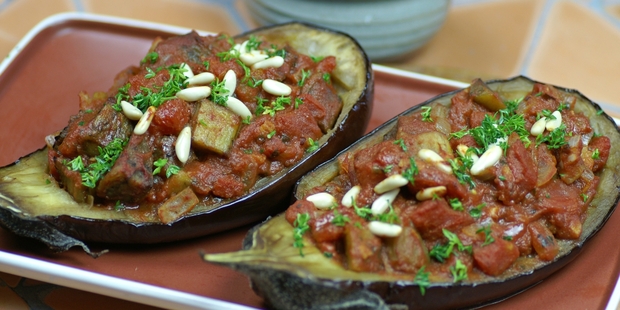 Iman Balyildi is the most famous eggplant dish eaten in the Arab world.
Ingredients:
1 medium purple eggplant
4 tbsp olive oil
1 medium red onion, diced
2 cloves garlic, crushed
1 tsp each: ground cinnamon, cumin, paprika
Pinch chilli flakes
400g can chopped tomatoes in juice
4 tbsp pine nuts or slivered almonds
1/2 cup flat-leaf parsley, chopped
Method:
Preheat oven to 190C.
Halve eggplants lengthways. Score the flesh almost through to the skin. Brush well with olive oil and place in a baking pan. Cover loosely. Roast for 20 minutes, until soft.
Meanwhile, saute onion in a little olive oil until soft. Add garlic and spices. Fry for 1 minute.
Once eggplants are cool enough to handle, scoop out the flesh. Reserve the shells.
Chop, then add to onion with tomatoes. Simmer for about 10 minutes, until eggplant is very soft. Spoon into eggplant shells. Sprinkle with pine nuts or almonds. Bake for about 20 minutes. Garnish with parsley.
Great served with tatziki: combine 1/2 cup Greek yoghurt with 1/3 cup seeded and diced cucumber and 4 tablespoons chopped mint.
Serve as a light meal or as an accompaniment to grilled lamb. Serves 2.