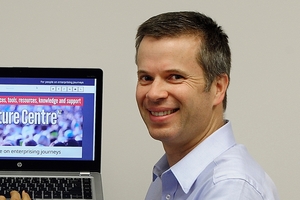 The countdown is underway for Tauranga Startup Weekend, which this year will be held at basestation, Tauranga's new communication and technology complex, say organisers.
The November event aims to draws attention to the tangible changes to the profile of Durham St in the city, and the aspiration, growth and momentum of Tauranga's entrepreneurial community.
Previously held in BNZ Partner's Business Centre on Cameron Rd, Tauranga Startup Weekend's move to basestation was significant, said Tim Bell, general manager, Tauranga BNZ.
"It's great to have hosted Startup Weekend for the past couple of years and help get the event established as part of our business eco-system," said Mr Bell.
"We are pleased to continue our support of the event, and now, also of the entrepreneurs starting basestation."
Basestation, to be housed at 148 Durham St, was being renovated specifically to meet the needs of entrepreneurs embedding technology in their startups.
The complex's investors Steve Vincent and Michael Doerner are well-established Tauranga IT business people and active supporters of economic development, and education. "It's exactly the type of community event we're creating the space to host," said Mr Vincent. "Startup Weekend is a great fit for basestation."
Previous Tauranga Startup Weekend events in 2012 and 2013 saw close to 100 participants take on the challenge to define a business idea, build a team and launch a business in the 54-hour intensive "learn-by-doing" event. More than 150 local entrepreneurs, business owners and investors have also joined in as mentors, judges and sponsors.
Many have also attended as guests at the final evening of the event - a pitch night, where participants showcase their weekend's work.
"It's an important community building event to introduce people to and engage them in thinking entrepreneurially about their future," said this year's Startup Weekend regional co-facilitator Tina Jennen, venture manager for the Enterprise Angels. "It's exciting to see the momentum that Startup Weekend has gathered in Tauranga."