DMS has seen a huge jump in volumes.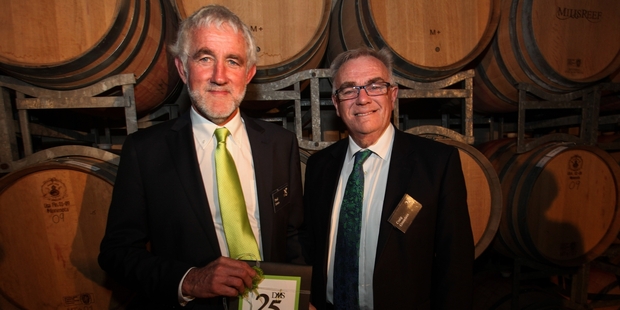 Western Bay of Plenty kiwifruit management company DMS has seen a substantial recovery in packing volumes for the 2013/14 season and has continued to increase its market share, as outlined in the company's latest annual report.
The 2013/14 annual result announcement comes in the same month as DMS celebrates its 25-year anniversary, with both founding directors Paul Jones and Craig Greenlees still firmly at the helm.
The company celebrated last Thursday night with a silver anniversary dinner alongside its AGM, in Tauranga.
DMS has consistently ranked in the first quartile for onshore fruit loss across all varieties over the past four years within the Bay of Plenty, recording a 0.007 per cent onshore fruit loss on Zespri's 2013 scorecard for the Gold 3 (G3) variety, compared to the industry average of 1.75 per cent.
It is also in the highest quartile for fruit storage earnings.
Last season also saw a Green harvest of 4.5 million trays, back to the company's previous 2011 levels.
New variety volumes increased to 869,000 from 266,000 in 2013, exceeding pre-season estimates.
Founding director Craig Greenlees said DMS remained at the top of its game and it came down to the company's breadth and the depth of knowledge of its staff, with top performance an expected norm.
"Our ability to store fruit exceptionally well has become a standard expectation for our growers, directors and managers, and is the reason DMS has been steadily increasing market share while the rest of the industry has been contracting. Growers are coming to us because we get such good results.
"One reason is because we have an incredible depth of experience within the company. Paul and I started DMS 25 years ago and between us have more than 50 years' combined corporate history and knowledge of the industry.
"It hasn't all been smooth sailing during that time, but we have learnt from our mistakes and we make sure those mistakes aren't forgotten.
"We also have a strong team with lots of knowledge - in our core team of 70, many have been with us for over 10 years."
Mr Greenlees said the retention and level of knowledge within the company, especially at management level, also ensured its durability and sustainability.
"When we started, there were the two partners and very few staff.
"Today, we employ 70 full-time staff, increasing to 350 in the peak packing season, and Paul and I are still at the helm.
"But the company isn't so dependent on us and that is an exciting evolution to see the company take."
He said the highlight of the current annual report was the great results DMS offered their growers. Staff morale also remained high across all sites as teams continually set targets which exceeded industry norms.
"We are consistently achieving some of the highest orchard gate returns in the industry, both per tray and per hectare, and we're confident of continuing growth and increasing grower profit over the next 25 years."