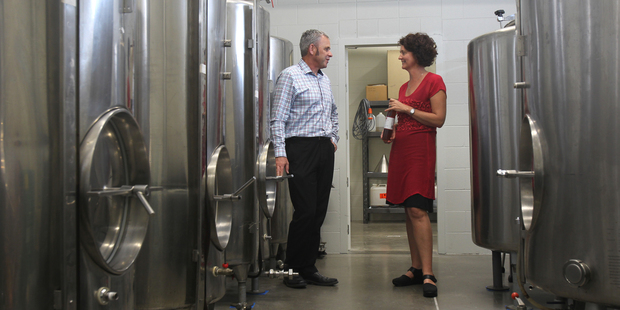 Award-winning Te Puna-based manufacturer Heilala Vanilla last month moved into a new purpose-built facility on its Newnham Park site and is about to embark on a fresh round of capital-raising, says managing director Jennifer Boggiss.
"We understand it's the biggest pure vanilla extraction production facility in Australasia," said Ms Boggiss, who co-founded the company with husband Garth Boggiss and her father John Ross.
The new facility, built over the past two years, would increase the company's manufacturing capabilities in extracting pure vanilla from Tongan vanilla beans.
"My father was donated a piece of land in Tonga in 2002 in return for giving young people in the community employment," said Ms Boggiss. "It was all about rebuilding industry there in the local community. Initially it was just our farm, but we now partner with other Tongan growers."
It hasn't been an overnight success. It took three years to develop the family's vanilla plantation, then in 2005 the family team set up Heilala Vanilla and began to develop commercial vanilla products.
However, a crucial role in the company's development has been its relationship with Massey University, which began in 2007, which provides access to senior students under the supervision of associate professor of food technology Dr Marie Wong to work on industry projects.
"It's quite a specialised field and when we first started business there was no real research that we could draw on so we had to form a partnership with somebody to develop our products," said Ms Boggiss.
Dr Wong added: "It keeps us linked with what's happening with industry and up to date.
"We help companies like Heilala Vanilla to innovate and it also helps us with our teaching and development of our students."
The company has gone from producing 350kg of vanilla beans in its first year to handling five tonnes in 2013.
Heilala Vanilla now produces a range of products, including vanilla beans, extract, paste, sugar, syrup and icecream. The products go to customers in the restaurant, gourmet food manufacture and specialty food retail trades. They are exported to eight countries including, its biggest market, Australia.
"Our focus over the last couple of years has been on acquiring export markets, and we're now concentrating on building those markets," said Ms Boggiss.
It is a capital hungry business, however, given the capital expenditures as well as the need to fund the once yearly purchase of the vanilla bean crop. Heilala Vanilla raised funds in November 2011 from members of local Tauranga angel investor group Enterprise Angels. In the process it afflictively sold 45 per cent of the company, retaining 55 per cent and family control.
Heilala is now about to do a further round of capital raising with its original shareholders. The new round would not alter the existing equity structure.