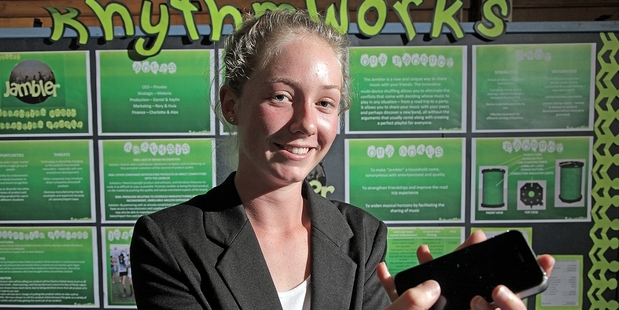 A multi-device music shuffler for your car is just one idea students came up with at the BP NZ Business Challenge.
Held over three days, students from Tauranga Boys' and Girls' Colleges got together at the Girls' College hall to create a business model for a product and present it to a team of judges.
Forty students from each of the colleges were divided into mixed teams of eight for the challenge, run by the Young Enterprise Trust.
Phoebe Haner, 17, and her team created the "Jamble", which compiles a music playlist from mobile devices.
The Jamble won the innovation award at the challenge.
"The Jamble is a device which enables you to shuffle music through various devices, so if you're on a road trip you can use it to shuffle and charge up to six devices at the same time.
"The music plays through Bluetooth, then there are retractable cords to charge your phone."
The students made a business plan and worked through the costings of their product.
Production would cost $30 for the Jamble to be made and exported from China. The wholesale price would be $80 and the recommended retail price was $139.95, a mark-up of 75 per cent.
Phoebe and her teammates Charlotte Parker-Ellicock, 16, Alex Taylor, 17, Kaylin Greer, 17, Melanie Duff, 17, Huia Ackerman, 17, Rory Turner, 16, and Daniel St Georg, 17, then presented their product to the judges.
"I think it went really well," Phoebe said. "We had 10 minutes, then we had time at the end for them to ask us questions.
"We all got up to speak, based on our different positions in the team.
"It all came together today really well."
Young Enterprise Trust head of primary programmes Sharron Buer said the challenge went well and a lot of great ideas came from it.
"The team that got first place, Alchemy, also won the teamwork award, so that says something there.
"All of the teams had a lot of innovative ideas but the team I thought had the most innovative idea was the Jamble."
Other ideas included items with GPS locators and iceblocks with edible sticks.
"The 10 teams all scored closely, there were only 10 points between them all."
Mrs Buer said the idea of the challenge was to get students thinking along the lines of what was involved in putting together a business plan for a product.