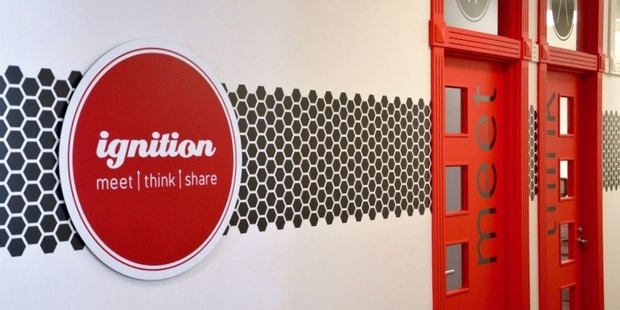 Priority One's co-working space Ignition has been so successful that in May it will take over a large part of the downstairs floor at the economic agency's Grey St offices, says project manager Michelle Parker.
"The growth of co-working has been massive," she added.
"We were the first to set up a dedicated space in October 2012, and since then there's been really good growth."
Ignition provided office space rentable either for $400 per month, or on a hot desk basis of $50 a day, to sole business owners who wanted a downtown office location and the opportunity to network and exchange ideas with others.
Since its inception, Ignition has seen 35 people come through and is hosting 18 in the existing premises, on the 2nd floor of the Grey St building. It would take over the lease of the ground floor location formerly occupied by Bayleys Real Estate and expected to eventually see 70-100 people working out of the street front space.
Priority One chief executive Andrew Coker said: "Combined with other co-working spaces already operating or planned in the city, that will contribute substantially to our positioning as a hub for innovation and entrepreneurial businesses."
In addition, the Wharf42 Plug and PlayTechnology Incubator, announced Tuesday by Wharf42 founder Peter Wren-Hilton, might take some of the new space. The incubator, which would link Tauranga with a major Silicon Valley incubator, aimed to support the growth of the existing ICT community and make Tauranga a destination for start-ups and early-stage technology businesses.
"We will be talking with various parties about options because we want a location in the CBD," said Mr Wren-Hilton.
"The new Ignition space is very much of interest as a site to potentially put part of the incubator. But whatever site we find, it will have to be expandable."
He added one of the best examples of what the incubator was trying to achieve, could be seen in Boulder, Colorado where a medium-sized regional city had become a major centre for start-up entrepreneurship.
In 2010, Boulder had six times more hi-tech start-ups per capita than the nation's average, according to an August 2013 study by the Kauffman Foundation - and twice as many per capita as runner-up San Jose-Sunnyvale in California, according to the December 2013/January 2014 edition of Inc magazine.
"Without the help of oil, natural gas, or any monolithic industry, Boulder County (population 300,000) ranks among the top 20 most productive metro areas in terms of GDP," said Inc.
"You don't have to be an Auckland or a San Francisco to do this," said Mr Wren-Hilton, who added the incubator planned to work with Tauranga service providers, including lawyers, accountants, HR and marketers, who could provide support to the incubator's startups.
Ms Parker said there were positive synergies between what Wharf42 wanted to achieve and what Priority One had been doing in driving business into the city centre, attracting people from outside of the region and ultimately building up the entrepreneurial eco system.