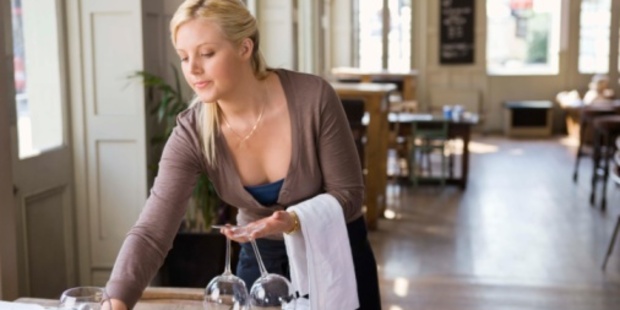 Jilted customers are hitting back through social media, naming and shaming businesses that give poor customer service, a new survey reveals.
A Tauranga hospitality boss says local customers have expectations of good service but some establishments are simply not up to scratch.
A new Colmar Brunton survey has highlighted the importance of good service and the potential fallout for businesses from bad word of mouth.
Nearly 80 per cent of customers told others about their good experiences while 58 per cent shared bad experience stories, the survey found. However, dissatisfied customers tell more people and will even call friends or post about service shockers on Facebook and social media.
Hospitality New Zealand Tauranga president Clayton Mitchell said good service was generally more important than the product. "The point of difference is generally how you feel when you walk in, and how you feel when you walk out.
"If I go somewhere and I get good service ... I'll tell everybody."
He knew of a few local businesses, which he declined to name, where staff needed to lift their game and give customers proper attention.
"The worst thing that staff members can do is put more priority on their own conversations or their cellphone.
"There are a couple of places that I wouldn't go back to because the service has been less than average."
Tauranga customer service used to be "very poor", and customers had no expectations of good service.
"I think now that's completely changed and maybe that's because we are an emerging city whereas we used to be such a small little village.
"People have come from bigger cities where service is expected to be good and I think now there is a real expectation that service needs to be spot on or people will tell you."
Mount Maunganui Mainstreet manager Leanne Brown said bad service drove people to shop with a competitor or shop online. "Word of mouth is the most powerful form of marketing, so if you provide poor service lots of people will soon hear about it," she said.
Mrs Brown said she recently visited a local clothes shop and walked around the store looking at items but did not receive any acknowledgement from the staff member so walked out again.
"The store not only lost a significant potential sale that day but I'm not sure I would go back in there again in hurry," she said.
Engaging with customers in a friendly and caring way, combined with having good follow-up and loyalty systems were key to business success, she said.
Tuskany Main Street spokeswoman Sally Cooke said in these highly-competitive times it was not enough for businesses to simply provide good customer service.
"It needs to provide exemplary service because people have so many options, and people love to engage with other people when it comes to their shopping and retail therapy experiences. It goes without saying that the products and services of a business must stack up but customer service unquestionably can mean the difference between a good business and great business."
Excellent customer service meant people were more likely to want to stay longer, want to spend more and come back again and also make recommendations to other people, she said.
New Zealand Retailers Association northern regional manager Russell Sinclair said New Zealand did "quite well" for customer service. There was growing industry recognition of the need to develop a staff culture around providing consistent good service.
News of a bad experience spread quickly on social media, so getting it right had become critical.
"If you get it wrong, they can tell thousands."
Websites such as Yelp let customers anonymously review restaurants, shops and services so that other users could make informed decisions.
Several factors contributed to bad service, such as not receiving staff assistance to find a product, Mr Sinclair said.
The survey asked 1000 New Zealanders about their good and bad customer experiences.
Forty-one per cent of respondents told 11 or more people about bad experiences compared with only 15 per cent who told at least 11 people about positive experiences.
Those who had bad experiences were most likely to pick up the phone (41 per cent) or post on Facebook (20 per cent) to tell others.