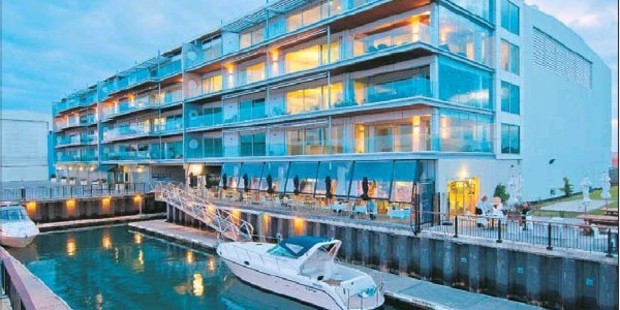 ALUXURY penthouse apartment on Tauranga's waterfront which sold for $1.5 million to an Auckland businessman is indicative of a turnaround in the region's apartment market, agents say.
While others report a lift in the apartment market - especially at the top end - there is still more supply than demand.
The Nautilus Apartments top-floor apartment, with panoramic views of Tauranga Harbour, sold in December, as did a second-floor harbour view apartment, which fetched $745,000.
Agent Peter Clarke of Bayleys said the apartments were attracting strong interest and he expected more sales in coming months.
Ross Stanway, chief executive of Realty Services, which operates Bayleys and Eves, said the sales backed trends he was seeing of increased interest in the apartment market and from out-of-town buyers.
Apartment prices had dropped over the past five years and, with no new apartments being built, a steady increase in demand had built over the past 6-12 months, he said.
"It's taken that period of time for demand to start to equate to the supply side of things. Prices have adapted," he told the Bay of Plenty Times Weekend.
"We are starting to see real interest in apartments from people outside the region, as either holiday homes or investments."
Mr Stanway said high-end apartments that were well constructed, well fitted and fairly priced were attracting interest.
"At that top end there is some very good value for money. Astute buyers are seeing that."
He anticipated increased demand in the next 12 months for apartments that tick the boxes.
Harley Balsom, director of valuing company Property Solutions, said there had been increased activity in the apartment market for sound buildings.
Prices had dropped significantly since the peak of the apartment market in 2004-05, he said, but were now "holding their own".
Apartments with construction issues - such as leaky buildings - were struggling to sell, he said, and those that sold were at discount prices.
There were still plenty of apartments for sale, so it was unlikely there would be a tightening of supply.
Apartments still are not selling in great numbers though. Last month just two sold in Mount Maunganui, both for more than $1 million.
But Nigel Martin, Tauranga Harcourts general manager/director, also reports a slight upswing at the top end of the apartment market since December. Prices remained flat, he said.
"We haven't seen an increase in prices in apartments for a few years. There's some very good buys out there."
Potential buyers were locals as well as out-of-towners, particularly from Auckland and Waikato, looking for holiday homes. Some were looking to upgrade their holiday home to a bigger apartment to live in permanently.
Most apartments in Mount Maunganui were bought for holiday homes which, as discretionary spending, was one of the first things to go when the global financial crisis hit.
"For the apartment market to pick up we need more holiday home buyers. That's what's going to drive the market."
Greg Purcell, franchise owner of Ray White Realty Focus in Mount Maunganui and Papamoa, said buyers were still cautious about apartments, although there was interest. "There's been a lot of apartments that sit on the market for some time, and there's probably some really great buys.
"One day people will look back and say 'that was a good time to buy'."
Auckland apartments were selling well, and Mr Purcell hoped that Tauranga/ Mount Maunganui would follow suit as more Aucklanders moved here.
"We have seen people moving from Auckland down here, that really is relatively new.
"I would like to think the apartment market will benefit.
"When you are downtown the Mount in an apartment it's fantastic, you are close to everything."
But John O'Donnell, owner of LJ Hooker Mount Maunganui/Papamoa, said the apartment market here was different to Auckland, where it was driven by young professionals, students and overseas workers.
"On a scale of one to 10, with 10 being we need more apartments to build and one being there's no interest in them at all, we would be at about a four or five."
The cost of land at Mount Maunganui meant that even a ground-floor apartment with no view would sell for $1 million, he said.
"In my lifetime, I can't see average people living in apartments permanently.
"We do manage a number of rental apartments because people can't sell them."
A 212sq m apartment at Eleven sold for $2 million last month, he said.