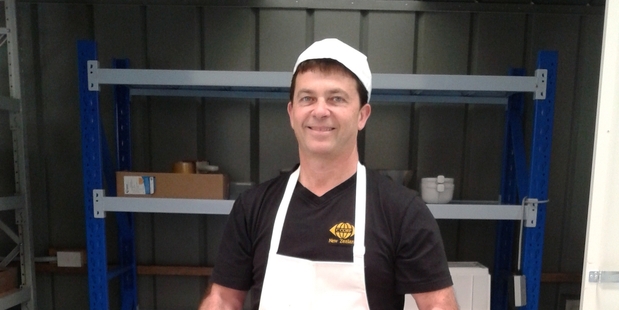 Mount Maunganui-based C-Corp NZ is beginning to taste success in its goal of making and selling cocoa products to New Zealand chocolate manufacturers and catering industry consumers, says general manager Glen Yeatman.
The company, which sources its cacao (cocoa) beans from the Solomon Islands, recently made a sale to Prolife Foods, which owns Donovans Chocolates and Mother Earth foods.
C-Corp's key outputs are the cocoa nibs (the crushed and winnowed beans) and cocoa mass, which is made from liquidised nibs, which are solidified into a slab including cocoa butter, to become an ingredient for high-quality chocolate.
The Prolife Foods order included 200kg of cocoa nibs for Mother Earth products. "They've also ordered a 15kg block of cocoa mass to experiment with, because it's a fresh, new taste for them," said Yeatman.
The company also recently sent its first order of 210kg of vanilla-flavoured cocoa mass to a Japanese confectionery maker.
Yeatman got into chocolate making in an unusual way. He made his first batch in his kitchen in the Solomon Islands' capital Honiara, to prove to his boss that the country's cacao crop could be used for gourmet quality chocolates.
"I used my wife's hair dryer as a liquidiser and I was in big trouble with her," he said.
But Yeatman, a Zimbabwean with a long history in coffee growing before he moved to manage cacao plantations in the Solomon Islands, convinced his boss. Clive Carroll, managing director of C-Corp, agreed to invest in a joint venture with Yeatman setting up a C-Corp operation in Tauranga last year. C-Corp also has operations in Australia and Vanuatu.
"I had a family here and the port was a big attraction. We can ship from Honiara to Tauranga in seven days," said Yeatman, who is C-Corp NZ's general manager.
The Tauranga manufacturing facility meets domestic and international food-grade manufacturing requirements and allows for modular expansion of production capability.
When announcing the launch last year, Carroll said the Tauranga facility would give Solomon Islands cocoa a specific origin identity, which it had never enjoyed before.
"We are hopeful to move from being a producer of intermediate product to a producer of 100 per cent Solomon origin chocolate bars sometime during 2014. However, in the meantime it's very much a step-by-step process."
"We control the growing and the grading," said Yeatman. "We believe there is a market here.
"We're hoping that people will see the value of chocolate that hasn't been blended in another country, but is freshly made in New Zealand."
There are some smaller, domestic chocolate makers, which tend to use the equivalent of cooking chocolate as the base ingredient, while the bigger manufacturers use cocoa mass and butter, said Yeatman.
"We are sending out a lot of samples to people and encouraging them to experiment with it."
C-Corp has also ordered a conching/refining machine, which will allow it to also make a wholesale grade of chocolate that can be sold to small and larger manufacturers.