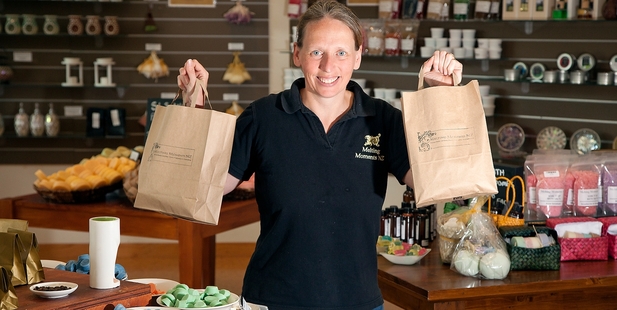 Western Bay retailers are reporting boom times as shoppers snapping up bargains have helped to smash Christmas Eve-Boxing Day spending records.
Paymark figures confirm shoppers have spent more than ever this December, with local retailers reporting no signs of the spending letting up any time soon.
Paymark latest spending data show Bay of Plenty shoppers spent more than $225million in the first three weeks of December, up 6.6 per cent on the corresponding period last year.
On Christmas Eve they spent $17.3million, up 21.1 per cent on last year, and Boxing Day sales resulted in spending of $9.8million - that's 12.8 per cent more than last year.
Paymark's head of sales and marketing, Paul Whiston, said Christmas Eve this year was Paymark's biggest day on record with $238.4million going through the network. That's 18.5 per cent up on the corresponding day in 2012.
"Christmas Eve this year smashed all our records. Not only did we see the highest value through the network ever, we also saw the highest number of transactions - at 4.35 million - and the largest number of transactions per second," he said.
"Yesterday was a continuation of the growth in Boxing Day sales we've seen in recent years. It's also an indication that consumer confidence is high due to the improved economy we're seeing at present - a win-win for retailers as far as we are concerned."
Palm Beach Plaza Papamoa centre manager David Hill agreed.
Mr Hill said across the board retailers in the centre reported having their best Boxing Day ever.
"It was unbelievably busy. Well over 20,000 people came through the complex and shoppers were absolutely spending and snapping up bargains. And why not? In some cases stores were offering as much as 50-70 per cent discounts.
"Our retailers are very happy, very exhausted, but happy. Everyone is blown away not only by the numbers of shoppers but the numbers of people who opened their wallets. The centre's new owners are very excited," he said.
Palm Beach Plaza tenant Melting Moments of NZ owner Ghislaine Martin said yesterday was not as busy as Boxing Day, but overall the store had had a great December. "We've only been open since September and overall we're very happy with how our sales are tracking. In fact, our sales figures this month have exceeded expectations, up 300 per cent on last month," she said.
Warehouse Tauranga store manager Andrew Long said the shopping pattern was quite different this year, with a quieter December 23-24 period, but Boxing Day was a "crazy" trading day, with 50 people lined up at 8.30am waiting for the store to open.
"Today [December 27] it's been a little bit quieter but people are definitely opening their wallets," he said.
Mr Long said many shoppers were snapping up their summer supplies, including tents, gazebos, and airbeds, some heading to the Rhythm & Vines concert, while others were visitors intending to spend their first New Year's in the Bay.
"This December was definitely busier than last year but Boxing Day's trading was probably on a par with last year," he said.
Bayfair Shopping Centre manager Steve Ellingford said the total sales figures wouldn't be available until next week, but retailers in the complex seemed "very happy", several reporting their best Boxing Day's trading.
A record number of shoppers visited the shopping complex - $38,356 - 2500 more than last year - and "people are actually spending", he said.