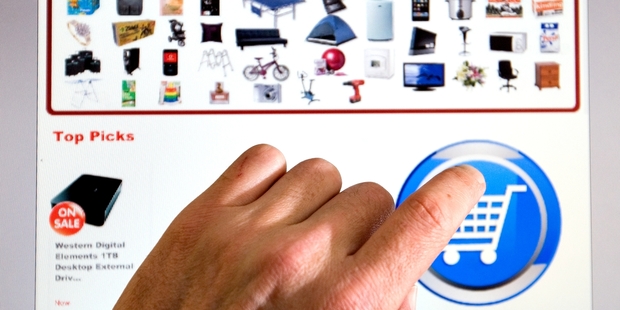 More than half of Kiwis are now using mobile devices to shop online, and most admit to physically hunting stores for the product they want - only to buy it later online.
Some retailers have responded by introducing charges for trying on clothes.
A Colmar Brunton survey asked 1024 New Zealanders about their use of mobile devices for shopping.
The results show Kiwis are increasingly relying on smartphones and tablets, with more than half of mobile shoppers influenced by some form of online promotion and 60 per cent saying they resort to "showrooming" to cut costs.
Showrooming sees shoppers trying on products in-store, then buying them elsewhere, or looking for a better deal on their smartphone, often while still inside the store.
Colmar Brunton innovation and development director Vanessa Clark says close to 60 per cent of mobile shoppers admitted to "showrooming".
"This underlines the reliance on mobile devices for getting the best deal. These shoppers are prepared to walk out of shops and purchase their chosen product online or at another store based on their mobile research in-store."
Is showrooming acceptable?NZ Retailers Association northern regional manager Russell Sinclair says showrooming is becoming increasingly common as retailer competition heats up.
Retailers spend "a hell of a lot" of money getting people in the door, so customers should be treated the same regardless of whether they're showrooming or shopping.
"We live in a digital world, people buy online ... others buy offshore," he says.
"If somebody's coming into your store and they are [showrooming], the best thing is to approach them.
"Retailers should engage them, find out what they're looking for, what sort of price range they're interested in ... and see if they can meet their needs."
Sinclair says retail is going through significant change with people "comparison" shopping through various digital platforms.
"They could be standing in one store making a comparison and actually buying in another store.
"It's not something we can legislate or change, it's part of the world we live in today."
How you can save by shopping onlineThe attractions of finding what you want, then buying it online include significant financial savings.
Consumer NZ found a cookbook bought from a bookshop cost the shopper $59.50 - after being discounted 30 per cent from the regular price of $84.95.
A quick check online revealed the same book could be bought for $49 at Book Depository, $67 on Fish Pond, or $47 plus $14 shipping on Amazon.
"The internet makes shopping easy from the comfort of your own home, and with so many overseas websites selling cheap books it's difficult for a physical store to remain competitive," Consumer NZ found. "Physical stores pay expensive rent if they're in prime locations and staff costs are high."
Mobile shopping by the numbersSixty-four per cent of tablet owners use their devices for browsing, 55 per cent for comparing prices and 49 per cent for making purchases.
Smartphones are most popular for browsing products, with about half of respondents using them to compare prices and a quarter for buying.
The survey found music and books were the most popular mobile purchases, with only six per cent never having bought music and only five never purchasing books.
Shoes and clothes were the least favourable, with 29 per cent and 20 per cent of respondents saying they would never buy them via a mobile device.