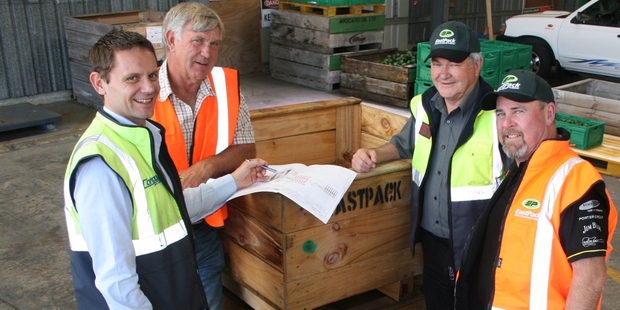 Kiwifruit post harvest supplier EastPack Limited says it is planning to spend $3 million on the latest optical grading systems for its Katikati and Edgecumbe packhouse operations.
EastPack acquired its Katikati packhouse following the company's merger in May with Satara, though it failed in a last-minute bid to derail its Katikati-based competitor Apata's merger with Aerocool earlier this month.
"We're really excited to deliver on our promise to our growers in Katikati that we would upgrade the packhouse following the merger," said EastPack chief executive Tony Hawken.
At both packhouses EastPack will be installing Compac InVision grader software, which uses LED lighting technology to discard any kiwifruit that has external blemishes, shape disorders, cuts or punctures, before they get to a team of graders.
The upgrades will also include a complete new bin tip system and an in-line sanitiser.
The upgrades at both sites will be in place for the start of the 2014 packing season.
EastPack regional operations manager Kerry McCree said the new software would provide greater throughput of both green and gold kiwifruit, and result in overall efficiency gains.
"The optical grading system will segregate incoming fruit into various quality sets.
"Obvious Class 1 kiwifruit will be directly fed to the packing line by existing unstaffed packing tables, and non-Class 1 fruit will be removed without the need for human intervention," he said.
Katikati kiwifruit grower Neil Magnus said EastPack's investment was an indication of the company's support of growth in the Katikati area.
Mr Hawken said EastPack's strong financial situation and its successful Growing Excellence programme enabled it to make ongoing capital investment.