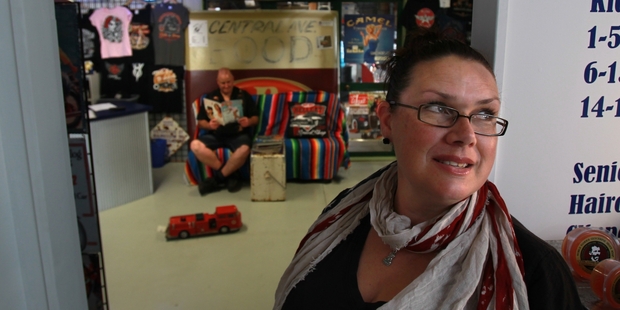 Andi Whitley and her partner Craig Mullan created their Mount Maunganui shop Retro America after returning from a stint in the United States three years ago with a pile of Americana collectables.
"There was so much stuff over in the US that we loved," said Ms Whitley.
"But it got completely out of hand. I love stuff, but I don't like clutter, so what better way of reducing clutter than by staying involved with what we loved and on-selling it."
The shop focuses on American antiques and collectables and has recently branched out to add a line of T-shirts and to incorporate a traditional-style barber shop on the premises. Typical items sold include neon bar signs, old coke fridges, pinball machines, gumball machines, vintage ice chests, drive-in movie speakers, pedal cars and old bikes. The items include genuine originals as well as reproductions created in the US to meet the growing market for retro objects.
This year the shop added the Legends barber shop, which is run on the premises by Kerry Rayner, complete with a neon clock, retro tin signs and wooden furniture.
"It's an authentic barber shop experience," said Ms Whitley, noting that Mr Rayner's services include cut-throat razor shaving.
Retro America has begun importing US T-shirt designs, which are made and printed locally, and are proving popular with tourists. It also sells a range of bags and jewellery.
"But the heart of what we do is man-cave stuff," said Ms Whitley. To widen their market, the retailer has recently begun working on a relationship with another Mount Maunganui business that has more of a focus on women, with a view to collaborating on marketing and securing more of the cruise ship market.
They also sell at local markets and for the past three years have run the vintage market at the Whangamata Beach Hop, one of the leading hot-rod events of the year. The pair are closely connected with the hot rod community, which has proven an advantage in building the business. "It is very closely aligned," said Ms Whitley. "Most people into hot rods are into cool old American stuff."
The couple own their own hot rod, a modified 1955 Plymouth Fury 3 station wagon, and also run the Nitro Ape drag racing team with their imported American dragster. The 1961-built car was formerly the J&J Muffler racer, which had an impressive US winning record in the early 1960s.
Mr Mullan has driven the car for the first season and his partner is now taking over.
"I'm developing a new racing project," said Mr Mullan. "Andi will drive, but I can help her with some of the car's idiosyncrasies."