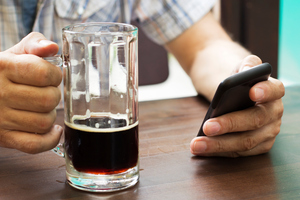 A new app aims to ease the burden alcohol places on wallets as well as waistlines. Lydia Anderson reports
We drink a lot of alcohol.
The habit typically starts at high school and by the time we get to university age, we're able to enjoy alcohol in bars and clubs, taking a serious toll on our finances and our health.
Statistics New Zealand says we spent $353 million on alcohol at liquor outlets - excluding supermarkets and bars - between April and June alone, up from $343 million for the same period in 2012, and $290 million in 2011.
THE FINANCIAL COST
The Alcohol Advisory Council of New Zealand recommends no more than 15 standard drinks of alcohol a week for men and 10 for women.
Assuming one standard drink equates to one bottle of beer and one bottle of beer cost $8 in a bar, men who drank the maximum recommended amount would spend $120 a week or $6240 a year.
Women would spend $80 and $4160 respectively.
The cost would be lower at a bottle shop that charged $15 for a six-pack, but men would still spend $37.50 a week or $1950 a year. Women would spend $25 a week or $1300 a year.
WHAT'S THE APP?
The online and mobile app DrinkSmart is designed to help young adults cut down on excessive drinking, with the idea that they're more likely to change if they can see how much it's costing them.
Launched on October 25, it was downloaded almost 1000 times in the following week.
Developed by Social Code Limited, with support from ACC, DrinkSmart measures cost in terms of dollars leaving your bank account as well as the extra calories being added to your waistline.
ACC general manager of insurance and prevention services John Beaglehole says many young people know they're overdoing it and want to cut back.
"But there are so many triggers, such as people, places and particular activities, that can cause you to drink more than you want to."
To help counter these influences, DrinkSmart focuses on things that matter to many young people, such as money spent and calories consumed.
"DrinkSmart is not anti-alcohol, but about empowering people to drink responsibly and in a way that doesn't have a negative effect on their health or bank balance."
Family Federation of Budgeting Services chief executive Raewyn Fox says any kind of monitoring, whether of finances or health, is a good habit to form.
"Young people use apps for everything ... that's the way they operate. We can't teach young people to do budgets or cashflows using a piece of paper and a pencil or a spreadsheet.
"It's the way to go to reach that particular group of people, which I see as the problem group - you've got to get them young and get them into the right habits, so I see it as very positive."
HOW DOES IT WORK?
Users can click on icons to record details of the type, size, quantity and cost of the drinks consumed.
A personalised "drink diary" then shows how many drinks they've had, together with the cost and calories.
Users take on an initial seven-day challenge, then receive a report of results, at which point they set their own goals and challenges.
A built-in automated "drink buddy" offers users positive encouragement to stick to their goals and reminds them to track drinks.
It sends motivating messages such as "you had a drink-free day yesterday, cool, that's awesome", says Social Code founder Siobhan Bulfin.
If users record a high number of drinks within a a few hours the drink buddy will send messages such as "you're over the limit, make sure you don't drive, how about having some water".
Bulfin trialled the app herself and says she's been surprised by the results.
"I'm not a huge drinker but it was a bit of an eye-opener as to the amount of calories I've consumed through alcohol and absolutely in terms of money spent.
"It kind of acts as an intervention if you see how much money's being spent. I track my drinks all the time now using it and it's definitely made me more conscious of the amount I'm drinking."
ACC supported the development of DrinkSmart because "the more you drink, the greater your risk of injury", says Beaglehole.
"Overall, we estimate that alcohol contributes to 11 per cent of injuries."
DrinkSmart can be downloaded for free from iTunes and an online version is available at www.drinksmart.co.nz