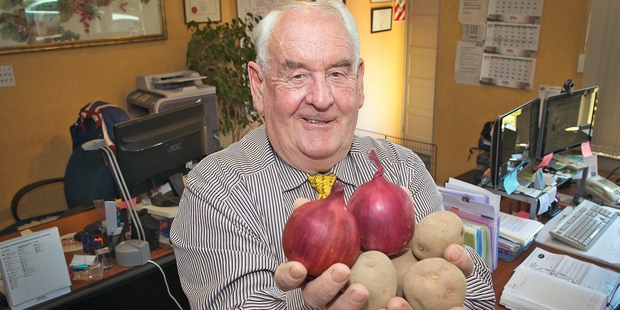 Ray Ellis wound up in Tauranga exporting potatoes, onions and tallow to Asia through a roundabout route.
The owner of Ellis Agricultural Services was a Wairarapa farmer in the 1970s when he received an offer to prepare the management proposal for a proposed beef research breeding block in Taiwan.
There he found himself working for Teng Hui Lee, then a pioneering agricultural reformer, who went on to become a noted politician credited with encouraging democratic political reform in Taiwan. Mr Lee was the first directly elected president in Taiwan and served in that role from 1988 to 2000. He was also the first locally born Taiwanese to lead the country after decades of rule by the Chinese politicians who fled the mainland after losing the Chinese civil war to Mao Zedong's forces in 1949.
"TH Lee was my boss at the time," said Mr Ellis. The future president, who gained a PhD from Cornell University, was at the time running the Joint Commission on Rural Reconstruction, a US-sponsored organisation aimed at modernising Taiwan's agricultural system and at land reform.
"They liked what I put on paper and the end result was that New Zealand sent up 6000 pregnant dairy heifers to get the Taiwan town milk scheme going. At one point in the 1970s we had about 30 Kiwis up there making dairy farmers out of rice farmers."
Mr Ellis spent about 20 years as a farmer in the Wairarapa, but suffered injuries which made farming too difficult and moved to Tauranga in 1989. A couple of years later he responded to an advertisement seeking someone with agricultural and Asian experience to go to Malaysia and evaluate a proposal to farm lamb in cut-over jungle in Kota Baru.
After he completed the assignment, a local Chinese Malaysian businessman asked him to look after a couple of companies he had in New Zealand that needed restructuring.
One thing led to another, then he received a phone call from his associate who was seeking a potato exporter.
"He asked me to find a sample pack of spuds and bring it up because there was a contract available to supply the local market," said Mr Ellis.
"The bag of spuds passed muster and I got a pretty instant contract out of it, so everything sort of went on from there."
Ellis Agricultural Services ships potatoes primarily into Malaysia and the Philippines for further processing, and occasionally into Thailand for processing and as seed potatoes.
The company also ships onions and potatoes out of California to meet off-season demand.
As well, the company ships containers of tallow to the Philippines, where it is mainly used in cooking.