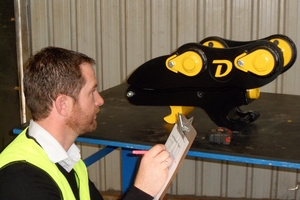 Tauranga-based Doherty Couplers and Attachments has achieved a significant reorientation of the company's sales since setting its sights on international markets, with 82 per cent of sales now coming from exports to Australia.
"It's a radical turnaround," said Doherty managing director, Jeremy Doherty, who began the business as a one-man operator in 2001.
"New Zealand is a good market, but it's still quite flat and quite small. We had done little bits and pieces into the Pacific Islands, but Australia was the first market we have intentionally expanded into and we wanted to make sure we got it right there before we looked further afield."
The company began exporting to Australia two-and-a-half years ago, employing a full-time staff member in 2011 and setting up a Queensland distributor last year. Mr Doherty spends six months of the year shuttling between New Zealand and Australia. Most recently he has been based in Sydney for the past six weeks determining the best way to tackle further expansion and has opted at this stage to go directly to market in New South Wales.
He started the business on the back of a small loan. Today, Doherty Couplers and Attachments is a multimillion-dollar business and has been seeing 30 per cent compounding annual growth year on year, he said.
Most manufacturers going through a high-growth phase face challenges in delivery and after-sales service, he said. "We've got some great customers who have supported us over the years, despite our obvious difficulties in the early days."
Zac Scott, managing director of Zaxcav8 Civil Contracting in Queensland, agreed that Doherty had been through a steep learning curve. "There were times at the start when I wanted to give up on using Doherty's," he said. "But every time I called, Jeremy would answer his phone and deal with the problem for us. Their customer support has been brilliant, and in the earthmoving game that gives you security so you stick with that company."
Mr Scott said that all Zacav8's operators, "who are fussy lads", preferred the Doherty brand to anything else. "The feedback I'm getting is that Doherty are stronger on tilt and breakout. The shapes of the buckets Doherty builds are perfect and the countersunk pick-ups on them allow for more breakout which is vital on Aussie ground."
However, despite Doherty's success in Australia and the pressure from cheaper imports from China and India, Mr Doherty said he planned to continue manufacturing from the company's Mount Maunganui base.
"We had considered manufacturing in Australia, but we want to continue to manufacture in New Zealand."