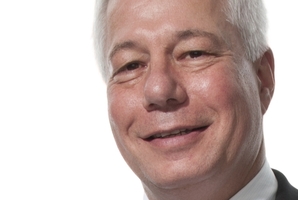 Tauranga-headquartered farmers' fertiliser co-operative Ballance Agri-Nutrients is dealing with the impact of an increasingly volatile global political environment on its supply costs.
One of two major farmer-owned New Zealand fertiliser companies - the other is Christchurch-headquartered Ravensdown - Ballance is a major importer and manufacturer. The company brings in 1 million tonnes of inputs and finished fertilisers valued at about $280-300 million, and sells 1.3 million tonnes of superphosphate and other fertilisers valued at more than $90 million annually.
"Supply and pricing is certainly challenging," said Larry Bilodeau, chief executive of Ballance, which has 18,000 farmer shareholders and 750 staff nationwide. "You like to have a consistent pricing for our farmers. But prices fluctuate with everything that happens in the world." That can range from changes in the US dollar, through the ongoing impact of the 2011 Arab Spring to the recent depreciation of the Indian rupee. New Zealand soils are not naturally rich in the key inputs needed to sustain the agricultural base, namely nitrogen, phosphate, potassium and sulphur, so that Ballance's business revolves around bulk importing of phosphate rock, sulphur to make sulphuric acid, as well as potash and some finished fertilisers and urea products.
These are sourced globally - including phosphate from Africa, China and Vietnam, and potash from Canada and Russia.
"Nothing is steady on the supply side," said Mr Bilodeau, citing the impact on the market of the Arab Spring in Tunisia, where protesters cut off access to the state phosphate companies.
The Middle East and North Africa region is a major player in the phosphate market, with more than 80 per cent of the world's reserves, according to industry journal Potash Investing News. It noted many of these countries could become game changers in phosphate and fertiliser supply. The industry in countries like Tunisia, Morocco, Jordan and Syria is highly vertically integrated. State-run companies mine, process, and market phosphate ore and fertiliser products. The shake-up of state-run phosphate firms as a result of the Arab Spring has been most directly seen in labour and wage relation clashes.
While Ballance has a team of more than 100 people selling product throughout New Zealand who use complex planning programmes to help estimate demand, forecasting input pricing largely comes down to Mr Bilodeau, his general manager for supply Jack Herder and a couple of team members.
"Supply pricing comes down to what a few of us think is really happening. You have to spend a lot of time talking to your suppliers. Now politics plays a bigger role and there are more weather events. It makes the volatility quite challenging. But that's what makes it fascinating."